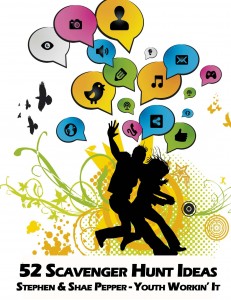 Scavenger hunts are a great activity to do with young people as they're perfect for team building, getting them to use their initiative and are also just incredibly fun.
This week's Best of Youth Workin' It therefore has a nice long list of scavenger hunt ideas for teenagers:
1. 52 Scavenger Hunt Ideas – This book has the most comprehensive collection of scavenger hunts you'll ever need, including lists for each one that you can photocopy or print off over and over again. Pick up your copy from Amazon here.
2. Christmas Scavenger Hunt – At the time of writing this, it's less than two months until Christmas. This could therefore be the perfect time to start planning this activity.
3. Christian Christmas Scavenger Hunt – The previous idea is perfect whether or not you're a Christian youth group, whereas this idea is tailored more for church youth groups.
4. Holiday Scavenger Hunt – The last couple of scavenger hunt ideas for teenagers have related to Christmas, whereas this list has ideas that cover other holidays like Kwanzaa.
5. Mall Photo Scavenger Hunt – This idea has been our most popular scavenger hunt post so far, as it's simple to plan and can result in some great photos and memories.
6. Hunt The Spy Scavenger Hunt – This was the first hunt I was ever part of and has some great memories for me. Teenagers love it as well as they get to see their leaders dressed up in all kinds of weird and wonderful outfits.
7. Travel Scavenger Hunt – If you're running sessions about world awareness, this is an activity that fits perfectly alongside that. It can also result in some hilarious photos depending on how the youth decide to interpret each country's name (you'll see what I mean!)
8. Grocery Store Scavenger Hunt – This may not sound particularly exciting, but it can help you teach important life skills to teenagers in a fun way.
9. Flea Market Scavenger Hunt – This idea doesn't have any particular purpose to it, other than to have them enjoy themselves!
10. Hunger Scavenger Hunt – Organize a quite literal scavenger hunt by making your young people hunt for their food while on a youth retreat.
So there are our 10 scavenger hunt ideas for teenagers. To get even more ideas as time goes on, check out our separate site for many new scavenger hunt ideas each week.
You can also connect with us by: