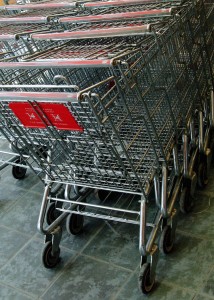 Last week's session idea gave ideas on how to teach food shopping life skills to teenagers. This week continues the theme with a grocery store scavenger hunt.
The aim of this session is to help young people learn more about the cost of food. This is done by having them find various premium brands during the grocery store scavenger hunt and noting down their price, then finding similar products by other brands/store brands that cost less.
Resources
Scavenger hunt list (see below)
Pens
Clipboards (not essential, but useful)
Calculators (they should have this function on their phones)
Preparation
Put together the scavenger hunt list. This should be split into two columns – the left column should list some premium brands and have space for youth to write down the cost of the item, while the right column should be left empty so they can write down the alternative brands and their prices.
How To Organize
Take your youth to a grocery store – the larger the better, as this will mean they have a greater variety of products to choose from. Depending on how many young people you have, either split them into teams or have them go around the store individually.
As they'll be out and about representing your youth group/project, remind them of any group agreement or behavior policy that you have. Set a location and time to meet up once they've completed the scavenger hunt.
Provide each team/person with a copy of the grocery store scavenger hunt list, along with a pen (and clipboard if applicable). Explain that they need to find all the premium branded items on the list and write down their cost; advise that this should be written down in the left column.
Once they've done this for an item, explain that they need to find a similar product of a similar size/weight, but which is cheaper. They should then note down the name of the brand (or if it's a store brand) and the cost.
Evaluation
Once they've completed the scavenger hunt, get the young people to total up both columns. Next, have them calculate the difference between the two columns and get the teams/individuals to compare each others' different totals.
Finally, facilitate a discussion about food shopping on a budget and get their observations on what they learned during this activity regarding the cost of food. Do they think that the premium brands are worth paying that much more money for?
Grocery Store Scavenger Hunt List
The list can be as long or short as you like; this will also vary depending on how much time you're allocating to the scavenger hunt itself.
We know our readers are based all over the world, so it's hard to provide a list of items as brands will vary by country. Here are some suggestions of items to list though given that they're global brands (as far as I'm aware anyway!)
Heinz Tomato Ketchup
Newman's Own pasta sauce
12 pack of Coca-Cola cans
Salt & Vinegar Pringles
Nutella
Nutri-Grain bars
Kellogg's Frosted Flakes
Dannon Activia yogurt
Tropicana orange juice
Nacho Cheese Doritos
Green Giant frozen sweet corn
Ben & Jerry's chocolate fudge brownie ice-cream
Tip
Contact the grocery store in advance to advise them of what you have planned. They'll no doubt appreciate being given a heads-up as to why there'll be a number of teenagers wandering around their store with no basket or shopping cart!
They may even be willing to have someone at their store offer advice about food shopping, coupons, meal planning, etc.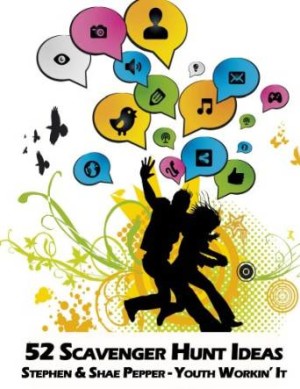 If you've found this idea helpful, check out our other scavenger hunt ideas on this site, plus our food label scavenger hunt idea on our sister site.
We've also published 52 Scavenger Hunt Ideas – a book with all the scavenger hunt activities that you'll ever need. Pick up your copy now from Amazon or direct from us.
Question: What other items would you include on the grocery store scavenger hunt list? Share your ideas in the comments below.
You can also connect with us by: