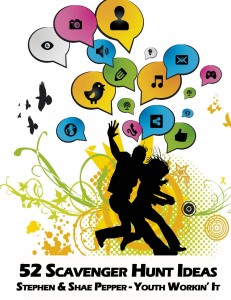 Ever since we started the Youth Workin' It blog, we've offered various different youth scavenger hunt ideas. These have proved to be very popular, so we decided to create a book that has an even larger collection of these ideas.
This is the result – 52 Scavenger Hunt Ideas.
Why 52?
This gives you enough to do one each week for an entire year! Seeing as most people wouldn't do scavenger hunts this often, this resource should last you for years without having to duplicate any of the ideas.
What do I get?
The book gives you everything you need to plan a scavenger hunt:
The type of scavenger hunt (photo, item, observational, etc)
List of resources you'll need
Any preparation you'll need to do (usually none!)
Instructions
Scavenger hunt list
The best thing about each of the scavenger hunt lists is that you can make as many copies as you like, so it's perfect for when you have loads of players or teams. If you get the paperback version, you can make as many photocopies as you like. If you get the digital ebook, you can print off as many of the lists as you need.
How much does it cost?
It's only $14.99 for the paperback and just $9.99 for the Kindle version.
Sounds great! How do I get a copy?
Just use the links below to get your copy of 52 Scavenger Hunt Ideas:
$14.99 Paperback via Amazon
$9.99 Kindle via Amazon