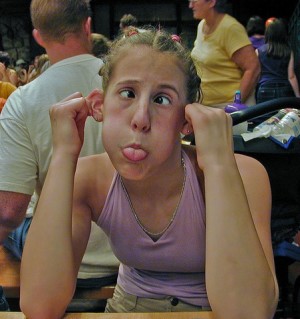 If you want to plan a fun team building activity for your youth group, here's a great 'getting to know you' game that your teenagers will enjoy as it's also a little goofy.
Here's how to play it:
Resources
List of statements
List of actions
(Having pre-prepared lists is optional – this is something you could wing if you need a game to use on the fly or if you're just feeling creative.)
Preparation
None
Location
If it's nice weather outside, this is a good youth group game to play outdoors, especially as it should give you a little extra space. It can just as easily be played indoors though.
Instructions
Have your students get into a large circle, with at least a foot or two between them providing there's enough space where you're playing (this is so that they don't bump into each other doing some of the game's actions).
Explain that you're going to make a series of statements to help both them and you with getting to know each other better. If the statement applies to them, they have to do the action you say straight after.
For example, you might say "If your favorite color is purple, hop on your right leg", so anyone whose favorite color is purple needs to get hopping.
The key thing with this is that they have to continue doing all the actions throughout the game. If there are loads of statements that apply to them, they might therefore have to hop on their right leg while scratching their head with their left hand while rubbing their stomach with their right hand while blinking quickly while sticking their tongue in and out, etc!
The only time they would stop doing a certain action is if a new action requires that they use that part of the body, or if it conflicts with another action.
For example, if they're hopping on their right leg and then another action later on is to pretend they're kicking a soccer ball with their right leg, they don't have to hop anymore (unless you want them to land on their back by trying to do both).
Similarly, if they're hopping on their right leg but then they have to stand on their left leg only, they'd stop hopping on their other leg.
Tips
Start off with easy actions that get gradually harder as the game progresses – this means the game gets even more fun as you go along
Have your volunteers take part as well
For tiring actions – like hopping on one leg – change it up by using that body part for a different action later on (although there's no guarantee the corresponding statement will apply to the young people who are already hopping)
Be safe! Due to all the different weird movements, make sure the students aren't going to hit / kick / fall into each other. If playing this outdoors, it's therefore best to do it on grass rather than in the parking lot.
List Of Statements
Here's a list of some different statements you can use in this getting to know you game:
If your favorite color is purple…

If you like playing soccer…
If you have a brother…
If you can speak more than one language…
If you like playing video games…
If you like Mexican food…
If you have brown eyes…
If you were born in September…
If you've been on a cruise…
If you like broccoli…
If you want to be a firefighter when you're older…
If you like drinking water…
If you suffer from hayfever…
If math is your favorite subject…
If you have a pet dog…
For ideas of other questions you could use, check out this worksheet or these getting to know you scavenger hunt ideas.
List Of Actions
Here's a list of actions that can go with the statements above:
…stand on your left leg only
…nod your head
…rub your stomach with your left hand
…hop on your right leg
…pretend you're throwing a football with your right hand
…close your left eye
…scratch your head with your right hand
…stick your tongue in and out
…blink really fast
…pretend you're kicking a soccer ball with your left foot
…look upwards and point up at the sky with your left hand like you see Superman
…open your mouth wide
…turn around in a circle slowly
…sit down on the floor
…whistle as quietly as you can
If you liked this idea, you can find loads more getting to know you activities here. We also have many more youth group games that you can use.
Question: What other statements and actions would you use with this game? We'd love to hear your ideas in the comments below.
You can also connect with us by:
Image courtesy of rickpilot_2000, Flickr