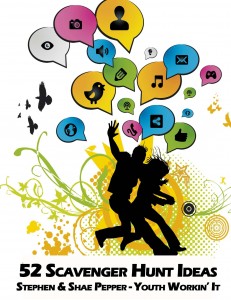 Q: Can you give me any advice on how to plan a scavenger hunt? I'm wanting to organize one, but I've never planned one or run youth group activities off-site before.
A: There are many different types of scavenger hunt, so there are also many different ways to plan one.
However, here are 12 steps that should help no matter what kind you choose.
1. Themes
The first step is to pick a theme, as it will influence what the players have to find or the tasks that they have to complete. The theme could be based on:
2. Items or Tasks
Decide whether you want players to find items or perform tasks. Traditional scavenger hunts involved giving players a list of items they had to physically collect, but having youth complete tasks means that you can get them to perform all kinds of funny tasks if you want.
3. Type of Scavenger Hunt
The next step is to decide how the youth should complete the scavenger hunt. There are three main types:
Collect – Players have to collect all the items on a list
Photo – Players have to take photos of items or tasks being completed
Video – Players have to take videos of tasks being completed
I tend to prefer photo and video scavenger hunts for a few reasons:
There's less of an issue with budgets as players won't need to buy any items
You can be more flexible with the items and tasks to include
It increases the chance for youth to be creative and funny
The photos and videos can provide long-lasting memories, plus you can use them for promoting your youth group and future events
4. Pick a Location
Next, choose where you want to hold the scavenger hunt. Malls are a great location, but they can also be done in your neighborhood, in your local town, etc.
Alternatively, if some or all of your youth drive (or if you have enough volunteers who can drive them), you can also choose to have no set location. With this option, you can let them go anywhere they need to in order to find the items or perform the tasks.
5. Safety
As you're planning the scavenger hunt off-site, take the safety of your youth into consideration. Here are a few suggestions for how to do this:
Driving – if youth will be driving, try and have a volunteer in the car with them to ensure they don't speed or drive dangerously in a race to complete the list
Permission slips – As you won't be in your normal youth group meeting place, make sure you get their parent's authorization. See our post on how to create a youth group permission slip for ideas
Boundaries – Ensure the youth are clear about the playing area for the scavenger hunt. For example, make the parking lot off-limits in a mall scavenger hunt so that there's no danger of them running behind reversing cars
Volunteers – Try to have at least one volunteer with each team of young people. This not only helps with safety, but provides a good opportunity for relationship building
6. List
Put together a list of items or tasks (or a mixture of both) for teams to complete. Give each team a copy and give them a penso they can cross off each item or task as they find it / complete it.
Even when organizing item scavenger hunts, we also like to include bonus tasks for teams to complete. These will usually be funny tasks or require some element of creativity. For example, tasks we've used before have included:
I can't believe we all fit in here!

Sitting on Santa's knee
Lay on the floor in a public place and spell out a word using your bodies
7. Resources
Make sure all the players / teams have all the resources they need, like:
Scavenger hunt lists

Pens
Cameras (cell phones should be OK)
8. Time Limit
Set a time limit that teams need to have collected the items / completed the tasks by. To encourage them to return promptly, penalize teams 1 point for every minute that they're late – let them know this in advance.
9. Meeting Place
In addition to specifying a time they need to be completed by, also let teams know where they need to meet at the end. This might be in the food court of a mall, your church or community center, etc.
10. Rules
Specify any additional rules for your scavenger hunt. In particular, emphasize any expectations you have for their behavior. Remind them of what they've previously committed to if they've signed a group agreement.
You can also find some suggestions for scavenger hunt rules here – many of the rules will be applicable even if it's not played at a mall.
11. Points
Let teams know how the scavenger hunt will be scored. If you're planning on having them complete tasks, will certain tasks attract more points based on the level of difficulty?
Similarly, if there are bonus items or tasks that they need to find or perform, give them an idea as to how you're planning on scoring them. Will points be awarded based on creativity, how funny they are, if they got members of the public involved, etc?
12. Slideshows
If you've decided to plan a video or photo scavenger hunt, one of the best parts is seeing each other's photos and videos. Therefore, try to incorporate time to watch all of these at the end – this is usually the funniest and most memorable part of youth group activities like this!
Scavenger Hunt Ideas
Now that you know how to plan a scavenger hunt, take a look at our separate site – called Scavenger Hunt – for loads of ideas, many of which can be easily tailored for youth groups. We also have 10 ideas on this site specifically for teenagers.
You may also like our book – 52 Scavenger Hunt Ideas. All of these ideas were written with youth groups in mind and each one includes lists that you can photocopy as many times as you like.
Question: What other steps do you include when planning scavenger hunts? Let us know in the comments below.
You can also connect with us by: