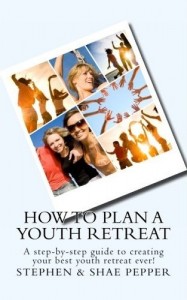 Coming up with youth retreat themes can be one of the hardest parts of planning a youth retreat. Over the coming months, we'll be giving some youth retreat theme ideas for you to use.
On Thursdays, we give free youth work session plan ideas. As the name suggests though, these ideas are based on shorter youth work sessions, so aren't always suitable as themes for youth retreats that take place over a weekend or longer.
These youth retreat themes will therefore give you a broad outline for your retreat, enabling you to expand on the material to tailor it for your own youth group.
Youth Retreat Themes – Hunger
Following the recent release of The Hunger Games, this felt like an apt choice as a youth retreat theme. Although not based on the book, this theme will help young people explore the issue of hunger facing many other youth around the world.
This youth retreat theme has been created using a number of materials from The Turning Point Trust, a charity working with children and families in the Kibera slums in Kenya. The Turning Point Trust was set up by Jon & Jo Parsons – Jon was one of my youth workers when I was a teen and he and Jo are doing incredible work in Kibera.
Meals
This will be one of the biggest challenges, as this youth retreat theme involves taking up the Kibera Diet Challenge. This restricts the types of food, methods of cooking, etc – check out the rules of the challenge here.
As youth retreats tend to be held further away, you might need to forgo the 4th rule as you'll need to buy the food in advance. However, see the activities below for an idea on how you can still make the young people work for their food.
There is also a Kibera Diet Challenge recipe book to give you some ideas of meals that can be made, along with the ingredients needed.
Meetings/Discussions
Turning Point have also provided a free reflections worksheet for those taking the Kibera Diet Challenge. This provides some good discussion points to have with your youth to help them consider further the issues facing those dealing with hunger on a daily basis.
The reflections worksheet includes some suggested reading from the Bible, but if you're not running a Christian youth retreat then this section can be left if you wish.
The worksheet is also based on people taking the challenge over the course of five days. As most youth retreats occur over the course of a weekend, these reflections could be condensed accordingly – perhaps day 1 on Friday, days 2 & 3 on Saturday and days 4 & 5 on Sunday.
Activities
As mentioned in the meals section above, walking to a store might not be a viable option on your youth retreat, especially because most youth retreat centers tend to be in the middle of nowhere. Here are some activities though to help your youth experience this part of the challenge.
Organize a quite literal scavenger hunt – Hide each day's food all over the youth retreat center complex or preferably over an even wider area, if there are woods or hiking trails nearby. Provide a map or instructions for the youth on where to find the food.
Fetching water – Do some research into churches, businesses or community organizations within a 2-5 mile radius of the youth retreat center. Contact them in advance to ask if they'd be willing to have you all walk there and fill up large water containers, acting as a faux-well. Your youth can then work as a team to help each other carry the heavy water containers back to the retreat center.
Fire making – As electric appliances can't be used, consider cooking meals over a fire or by using some basic outdoor camping cookers. If building a fire, gathering firewood can be used as an activity each day and would be a great opportunity for relationship building. Be sure to conduct risk assessments due to the safety aspect of this though (see our book for more details on how to conduct a risk assessment for youth retreats).
 After the youth retreat
Having experienced a little of what it would be like to eat meals similar to someone in a Kenyan slum, your youth may be impacted by this and want to make a difference.
One way of doing this would be to support the Turning Point Trust. You can do this in a number of ways:
Question: What other activities would you do to address the global issue of hunger? Please let us know in the comments below.
You can also connect with us by: