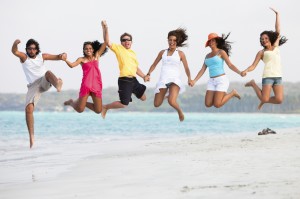 PLEASE NOTE THAT THIS OFFER HAS NOW ENDED
Next month, we're launching our second youth work resource – 52 Scavenger Hunt Ideas. As the name suggests, the book has enough scavenger hunt ideas so that you could do a different one each week of the year if you wanted.
Each idea comes complete with a list of resources needed, any additional preparation required (usually none) and instructions on how to run the scavenger hunt.
Most helpful of all though is that every single idea comes complete with a list of scavenger hunt items that need to be found. This list can be photocopied, meaning there's pretty much nothing that you need to do as we've taken care of it for you!
That's not all though. We have a number of pre-release copies to give away to youth workers just like you. It doesn't matter where you live in the world – we're happy to ship it anywhere, all for free. All that we ask is that once you've looked through the book, you review it on Amazon.
Don't worry, we're not being shady about this – we're not asking you to say it's amazing if that's not what you think. We just want genuine reviews from people who have actually read the book. Regardless of what rating you give it, the book will be yours to keep.
How do I get a free copy?
Just get in contact with us by either:
Emailing us – scavengerhunt at youthworkinit dot com
Using our contact page
It really is as simple as that. We'll reply to everybody that contacts us to let you know if you're one of the lucky people to get a free copy. If you are, we'll ask for your mailing address so that we can send you a copy fresh from the printers. Don't delay though – you only have until 24 September 2012 to be considered for this free copy of 52 Scavenger Hunt Ideas.
In the meantime, check out some of our scavenger hunt ideas to get an idea of what our new book will be like, as well as our first book – How To Plan A Youth Retreat.