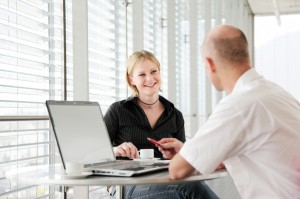 So, you've helped your youth prepare their answers for a job interview and practiced dressing for success. Now, it's time to put it into practice by giving your youth the opportunity to have mock job interviews with real managers and executives.
Contact local businesses in advance and ask whether they'd be willing to be part of your efforts to reduce youth unemployment. If possible, try to line up interviewers in fields your young people are interested in working in. It'll be far more useful for young people interested in, say, landscape gardening, to have a mock interview with somebody in that field rather than at a software engineering company. They might even end up impressing the interviewer so much that they're offered a job!
Give the youth a time and place to attend the interview – maybe it's at your youth center, a local coffee shop or at a centrally located office. This will also depend on where the interviewers are able to make it to.
Ask the managers to determine whether or not they would hire a youth based on their performance in the mock interview. Ask them to provide constructive feedback for the youth – whether they would have hired them or not – so that they can work on areas they need to improve for real job interviews.
You can use the managers that you work with, but I've found it works best when the interviewer is someone that the youth don't know at all, much like the situation in most interviews.
You could also hold individual and panel mock interviews to give your youth both experiences.
If you've found this helpful, you might like our other youth work session plan ideas.
Question: Have you held mock interviews with your youth? How did it go?
You can also connect with us by: