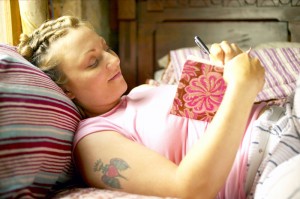 Q: Do you have any tips on what advice to give young people when starting up a prayer or life journal?
A: Getting youth to journal can be tricky, although many youth already do it without realizing – on their twitter feeds, profile pages, through text messages and through traditional journaling methods. Many are also journaling through music, art or poetry.
It can be really beneficial to develop the habit of journaling. Not just for the outcome of journaling, but also through the process of habit forming.
With that in mind, here are three tips on how to help youth get started with journaling.
1. Find the way that works best for them
Not everyone learns in the same way; similarly, not everyone expresses themselves or processes information the same way either.
For example, I'm an external processor. I think and reflect best when I can do it out loud. I don't even have to have anyone to bounce the thoughts off of, although it does help in a crowd so you don't look ca-razy. Usually, I start down a path of telling someone (usually Stephen) what I'm mulling over and before he even has a chance to say anything, I've solved the problem just by talking it out.
Have your students consider these different ways of journaling to capture their thoughts and feelings:
Write in a journal
Blog it
Film it
Photograph it
Scrapbook it
Vine it
2. Keep it simple
Often in our enthusiasm to start something new, we set our expectations WAY too high (oh, just me then?) and end up biting off way more than we can chew and ultimately feel like a failure when we can't deliver (just me still?)
We decide to journal every single day for the rest of our lives and, for some, that may be just what they need and can do, but for many youth it's unattainable. Then the great experience of journaling becomes a chore at best or a reason for guilt and shame at worst.
Instead, try suggesting a few of these timelines for starting to journal:
Monday, Wednesday, Friday
Tuesday, Thursday, Saturday
3 evenings a week
5 days a week
Once during the weekend
Write at least 3 sentences each day
Help your youth set SMART targets for their journalling habits, including a timeline and then help them review the outcomes.
3. Don't just write – reflect
I can remember my early attempts at journaling. It became a narrative for my day, much like a very boring Facebook feed (I ate this, I did that, I wore this, I went here… etc.), for youth workers under the age of 30.
Young people need to be taught critical thinking skills early on. One way to help them develop these skills is through the process of informed decision making. Encourage your youth to write about their day-to-day lives, thoughts, prayers, poems, etc, but also to think about what happened each day and what they could have done differently.
Here are a few possible ways to get more out of journaling:
Use SODAS
Set goals in the journal and review them (this also works well for faith-based groups by writing down prayer requests and praises)
Use acryonyms for journalling like 'SOAP'

For faith-based journals – Scripture – bible verse, Observation – what can I learn from this passage, Application – how can I apply it to my life? Prayer – how can God help me with it?
Non-faith-based groups – change the acronym: Situation – what happened (or you could go with 'Sentence' which could include a famous quote or important passage to them from literature or music lyrics), Observation – what could I have done/not done?, Application – what will I try next time?, Positivity – I can do this, I can change – or I'm great just how I am!
Bonus Tip
It's OK not to journal.
Many people feel journaling is a really important tool in their life for reflection and documentation, but not everyone is going to want to journal and not everyone will get the same benefit from it.
In keeping with tip 1, encourage your youth to try journaling (because how do they know it's not their thing if they don't at least try) and encourage them to try journaling in different ways that suit their learning style and interests.
But remember to tell them that it's OK not to journal. They're not second class citizens in the group if they don't journal and their level of faith or maturity in spiritual matters or groups should definitely not be measured by their ability or willingness to journal.
Questions: Do you think journaling is important for youth? What creative suggestions or tips do you have for youth starting out journaling? We'd love for you to share your ideas in the comments below.
You can also connect with us by: