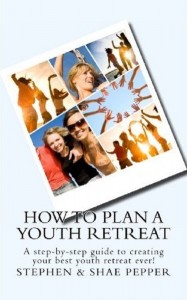 Q. I don't know how to calculate a youth retreat budget – can you help?
A. Sure! There are a number of different expenses you'll need to take into account when planning a youth retreat. Below is a list of some areas you'll need to price out – they may not all apply to your retreat, so leave off any of these factors where you won't incur any expense.
Youth Retreat Expenses
1. Youth retreat center – This is probably going to be the highest cost you'll incur, so it's important to price this correctly. When researching retreat centers, ascertain if the price quoted is based on a minimum number of youth attending, a 'per youth' basis or a mixture of the two. Also check to see what the cost includes; for example, are meals, activities, etc included?
2. Food – If the center isn't providing meals, you'll need to calculate the cost of food as part of the youth retreat budget. Even if the center does provide three meals a day, are snacks and beverages throughout the day included or will you need to bring those?
3. Speaker – Are you getting a guest speaker? If so, you'll need to cover the cost of their place at the retreat and may well need to offer payment for their services.
4. Worship leader – For Christian youth retreats, you'll probably be having a time of worship at some point. If you're bringing along a worship leader, the cost for them will need to be covered, as well as payment if they're a worship leader from outside the church.
5. Activities – Are you planning any activities either on or off-site that have some kind of cost involved? If so, include these costs. When booking group activities, you may be able to negotiate discounts for group bookings.
6. Travel & transport – How are youth getting to the retreat center? If parents will be taking them there and picking them up, there may be no cost for this area. If you need to hire a bus or minivan though include the cost of this, along with insurance, gas, parking, etc.
7. Resources – Are you creating your own curriculum for the retreat or planning on buying one? If buying resources, the cost could be included in the youth retreat budget. To save some money, check out our free youth retreat themes for ideas.
8. Subsidy – Some youth may not be able to afford to attend the retreat, so consider building in an extra amount to the youth retreat budget so that you can subsidize one or more places for students.
9. Prizes – If you're organizing activities, games, etc, will you be offering prizes? Don't forget to include these within the overall cost of the retreat.
10. Miscellaneous – There will no doubt be other miscellaneous expenses that aren't listed above that are specific to your youth retreat. Take some time to think through everything that you're planning so that nothing's left off the budget.
Youth Retreat Budget Calculation
Now that you've identified all the different expenses, total these up.
Next, divide the total cost by the number of people on the youth retreat. Something to consider here is whether your volunteers will be paying for their own place on the retreat. If not, divide the total cost by the number of youth. If volunteers will be paying their own way, include them when dividing.
Youth Retreat Cost
Once you've performed this calculation, you'll have the Total Cost Per Person. As suggested by the name, this is how much you'll need to charge per person in order to keep within the youth retreat budget. You may also want to consider adding on an extra amount to the Total Cost Per Person to cover any unforeseen expenses or other expenses you forgot to include within the budget originally.
Youth Retreat Budget Calculator
If you buy a copy of How To Plan A Youth Retreat, as an added bonus you get exclusive access to a youth retreat budget calculator based on the list of expenses above. The calculator is a spreadsheet where you simply enter all the different amounts and the number of people attending your retreat – it will then automatically calculate the Total Cost Per Person for you.
In addition to the budget calculator, you also get access to more than a dozen other youth retreat templates and forms to help your planning – these are all fully customizable and downloadable. Get your copy now!
Question: What other expenses are worth considering when calculating a youth retreat budget? Let us know in the comments below.
You can also connect with us by: