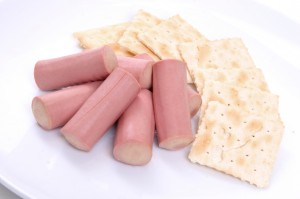 Q: What are some good youth group snack ideas?
A: Growing up in the UK, it was common for youth groups to have a tuck shop. This would have all kinds of snacks like the ones listed below (n.b. I've translated them from US to UK English in parentheses)
Candy bars (chocolate bars / sweets)
Potato chips (crisps)
Soda (fizzy drinks)
Penny sweets like Satellite Wafers (Flying Saucers)
When buying snacks of this kind, it's worth getting them from somewhere like Costco as buying them in bulk can save money. It might be worth checking your local grocery store though, in case they happen to have a good deal on any of these products.
One of the downsides of these types of snacks is that they tend to be full of sugar and/or food colorings, which you're pumping into your young people just before you want them to sit down and listen! Unfortunately, there aren't many other types of foods you can serve that require no preparation, other than fruit and vegetables – snacks that are unlikely to go down well with your youth!
You may therefore prefer to offer food at your youth group that's slightly more nutritious, but that young people will still enjoy. Here are some other snack ideas you could serve that require some preparation, but aren't too tricky or time-consuming to make:
Cold sandwiches
Hot dogs
Grilled cheese sandwiches
Pizza
Smoothies
Chicken nuggets
Macaroni cheese
If your youth work programs last all day, you may prefer to provide a proper meal at lunchtime. Even if your youth group is shorter than this, it might also be a good option if the young people you work with don't usually get nutritious meals at home. Easily prepared meals could include:
Lasagna
Spaghetti
Chili
Pasta
Soups
Question: What kind of youth group snacks do you offer? Share your ideas in the comments below.
You can also connect with us by: