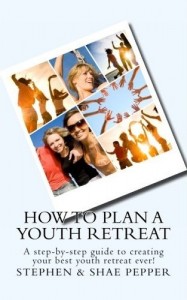 OK, so you've decided that you want to plan a youth group retreat – the next question is when to plan it for.
Where possible, we think you should start planning 9-12 months before youth group retreats. You can find out the reasons why in our book – How To Plan A Youth Retreat.
However, we know this isn't always realistic. Here are five factors that will influence what date to set when planning a youth retreat:
1) Time Of Year
Will the time of year affect your youth retreat planning? If you want to run a retreat at the beach, the summer is the obvious time to do this. If planning a youth retreat in the mountains, the winter might make more sense (providing you want it to be snowy).
If you have a lot of seniors in your youth group, retreats just before their exams might not be a great idea as they'll probably need to spend the time cramming for them. Then again, youth group retreats can provide an opportunity to clear their heads and help with stress management.
2) Youth Retreat Budget
In the cases mentioned above, planning a youth retreat at the beach in the summer, or the mountains in winter, will greatly increase the cost. This is because you'll be booking at peak season for the youth retreat centers.
If you have money in the youth retreat budget for that, it's not an issue. If you're trying to keep the cost of the retreat down though, consider booking off-peak. The weather in the Outer Banks in May obviously wouldn't be as nice as in August, but a retreat there pre-summer would be less expensive. Likewise, mountains can look just as beautiful without snow as with it.
3) Youth Retreat Themes
What you pick as your youth retreat theme(s) can also have an effect on what time of year to plan a youth retreat for. A theme about Easter or Christmas will, needless to say, work best at youth group retreats around those times. A theme about school may work best at the end of the summer break, so that what the youth learn will be fresh in their minds when back at school.
4) Parents
Be sensitive to the needs of your young people's parents, especially regarding finances. A spring youth retreat might not be a bad idea, but requiring payment in January could mean parents find it hard to afford so soon after Christmas.
5) Volunteers
Also be aware of the needs of anyone helping at the youth retreat. If your retreat is going to be held over a weekend, it would probably prove to be less of an issue for the volunteers of your youth group. Retreats over the course of a week (or longer) would probably mean they'd have to take time off work though. Therefore, discuss with your volunteers what times of year they'd be available to help on a retreat for your youth group.
Retreats require a lot of extra planning, so take into account these different factors when deciding on what time of year to hold a youth retreat. This will help with your youth retreat budget, make the youth retreat themes and content more applicable to youth and also improve relationships with parents and volunteers.
We hope you've found this post useful. If so, we have many more posts giving youth retreat ideas as well as our book – How To Plan A Youth Retreat.
Question: What time of year do you prefer to hold youth group retreats? Let us know in the comments below.
You can also connect with us by: