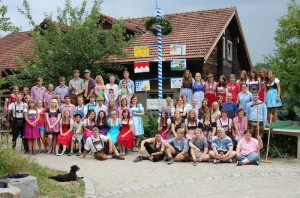 As part of our series about different types of youth work, this week we have an interview with Rachel Blom, a youth worker in Germany.
1. What type of youth work do you do?
That's an easy question with kind of a complicated answer for me. I'm Dutch and I used to be a youth pastor in The Netherlands. But in the summer of 2010 we moved to the south of Germany because my husband got a job there and so I had to quit my position.
It was hard for me to adjust at first; I missed my students terribly even though I still went back regularly to speak at events or even join them on retreats. I was also frustrated because I missed being in youth ministry in general. That's why I started my blog Youth Leaders Academy, to use my knowledge and experience to serve other leaders. It's been a blessing for me and I've met many great youth workers from around the world that way.
Since last summer I'm also back in youth ministry, albeit as a volunteer. We found a church here and now I'm a volunteer in the teen ministry here. We have biweekly teen nights and we organize a summer camp that draws a lot of unchurched teens. I also preach in our church here in Germany, in my former church in The Netherlands and where ever else I'm invited, for instance in youth services or retreats.
2. What do you do in an average week?
My son is in Kindergarten, so my primary task is to take care of him when he's home. I love that I'm able to be there for him in this stage of his life, I truly feel blessed that I get to watch him grow up.
When he's in Kindergarten, I write a lot. I published a book last year on starting conversations with young people, it's called Beyond Small Talk. I'm working on a second book now, I blog a lot for my own blog and various other blogs and I preach regularly so sermon prep is a recurring thing.
I also spend a lot of time connecting with other youth workers, both to learn from them and to serve them. That is something I'm very grateful for, I've had a lot of time to invest in myself the last two years and I've grown as a person and as a youth pastor.
Other than that I've been working on a fiction novel, I'd love to publish that some day. Then there's learning German and trying to integrate in the culture here, which isn't that easy because it's a fairly closed culture where we live. And I have a house, a huge garden and a vegetable garden to maintain, so there's enough to do!
3. What other types of youth work have you done previously?
In The Netherlands I was a youth pastor in a large evangelical church, well large for Dutch standards anyway. I worked 32 hours a week and I was responsible for ages 12-30 with a primary focus on 18-23 year olds. I loved doing that and I still connect with a lot of former students regularly. Because Holland and Germany are so close, we get a lot of them over for a weekend and in the summer we have a few coming to stay with us for a week, so I'm really looking forward to that.
4. What age range do you work with?
The teen ministry in our church is for 13-17 year olds, though the upper age level isn't very strict. It's just the age where most German students get their diploma and will move on to college or university, so it's a natural 'end'.
5. What's unique about your particular type of youth work?
That's kind of hard to answer because I really have two types of youth work: my volunteer position in our church and my activities for Youth Leaders Academy.
What's special about our church is that we manage to reach teens who aren't church goers. We live in a very Catholic area, but most people are Catholic in name only and don't do much with it. We get a lot of teens in our ministry who have a Catholic background, but come to us to learn more about faith and God and I think that's awesome. Last year we did an Alpha Course and we had great discussions about many things, I loved that. Our summer camp also gets many unchurched or churched-in-name-only teens.
As for my blog activities and everything around it, I love doing that, I love helping and serving other youth workers. I've been giving some training on preaching to youth and to see people really use your advice, improve their sermons, that's a great feeling. I also get grateful feedback on my blog, so I'm very happy to be doing that. And it so happens I love writing! I think what's unique is that I'm in the position where I can't get a position as a youth pastor right now, but still feel part of youth ministry. I love that.
6. What are some of the good things about your type of youth work?
Meeting so many people worldwide, many online and some in real life. I've been to some youth conferences in England and last March I went to the Simply Youth Ministry Conference and it was great to meet so many people I only knew online. I'm also involved in organizing Open Paris for the Youth Cartel in October in Paris, France this year and I'm really looking forward to that as well.
7. What are some of the challenges of it?
The challenge of doing youth ministry in our church is definitely the language and the culture. We live in a part of Germany called Bavaria and they don't just have an accent here, they speak a very string dialect that vaguely resembles 'official German'. So we basically had to learn two languages when we moved here.
I spoke some German, but not enough for deep conversations and the fact that many people here only speak Bavarian makes it hard to learn both well. I can now preach in German, even though I still have a horrible Dutch accent. And I understand enough Bavarian to get by, but it's frustrating sometimes when you want to say something but can't find the exact right words.
Spiritually it has also been a challenge, because I've been quite frustrated with God for making me let go of my job and my former ministry. It took me a while to see the good aspects of it, to enjoy the period of learning and growth I have right now.
8. Why are you passionate about this type of youth work?
I'd say there are three things I am passionate about: youth ministry, preaching and writing. I get to combine all three now, something which would have never been possible had I stayed in my old job. It took me a while to see that God had something else planned for me, but now I'm very passionate about what I do. The combination of being a volunteer and equipping others is perfect for me.
9. What would you recommend for someone wanting to get into this type of youth work?
For a youth ministry volunteer I think there are only two requirements: you have to love Jesus and you have to love teens. Then you just look at your gifts and passions to see where you can best serve in youth ministry.
As for the whole blogging and writing thing: there are many youth pastors who run a blog and I have tremendous respect for them. To do this as a calling, to really be serious about your blog, you have to love writing. Blogging is a lot of work and if you don't like writing and everything that comes with it, then don't bother. Just guest blog for others when you feel like it and focus on what you're really passionate about.
About Rachel:
Rachel Blom is Dutch of origin, American at heart, but currently residing in the south of Germany with her husband and five year old son. She's a former youth pastor, now a volunteer in youth ministry, a writer and an avid blogger. Follow her blog on Youth Leaders Academy.
Please feel free to use the comments below if you have any questions about youth work in Germany. If you're also a youth worker in Germany, we'd love to hear about your experiences in the comments too.
If you work in a different youth work field (or country), we'd love to interview you for this series, so please get in touch!
You can also connect with us by: