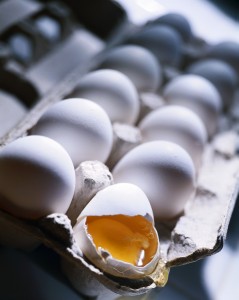 This week's youth group game is an eggs-tremely fun youth group game that will end up with someone having egg on their face (or at least in their hair!).
Here's how to play Cracking Up:
Resources
1 dozen eggs – 11 hard-boiled, one raw
Towels or ponchos
Two chairs
Questions (see below)
Number Of Players
Four – this can either be four young people or two young people and two leaders.
How To Play
Have two of the players sit on the chairs facing the rest of the youth group – if using two leaders and two youth, it should be the leaders sitting down.
Wrap the towels around their shoulders of the seated players; if using ponchos instead, leave the hood down. The other two youth should stand behind them.
Taking it in turns, ask each of the players a question. If they get it right, nothing happens. If they get it wrong, the youth standing behind them takes one of the eggs and cracks it on their head.
There's therefore initially a 1/12 chance that the first young person to get a question wrong will have the uncooked egg cracked on their head. As the game goes on, there's inevitably more of a chance that the uncooked egg will be picked.
Winner
The winner is the player who ends the game with a clean head, thereby ensuring the yolk's not on them (OK, that's the last egg pun).
Questions
There are many different types of questions you can ask as part of this youth group game. You could ask questions:
Based on things discussed in previous sessions
About Bible stories (if playing with a church youth group)
From Guesstimation
From Trivial Pursuit
Alternative Versions
You don't have to play Cracking Up based on regular questions, but on challenges instead. For example, you could play repeated games of Rock, Paper, Scissors, with the loser of each round getting an egg cracked on their head until the uncooked one is found.
Another option would be to involve more young people and combine with the Yes Or No game. With this version, you'd have one young person at a time taking part in the Yes Or No game. If they last one minute without saying Yes or No, they don't have an egg cracked on their head. If they last less than a minute, an egg is cracked on their head. Keep going until the uncooked egg is used.
If you liked this idea, check out all our other youth group game ideas.
Question: Do you know of any other ways of playing the Cracking Up youth group game? Let us know in the comments below.
You can also connect with us by: