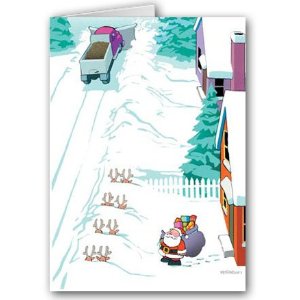 Organizing a Christmas card fundraiser can be a creative, fun and (somewhat) easy way to fundraise for your youth group. Here are 3 ways you could do this:
Reselling
Stores will often have special deals on cards leading up to Christmas, like Buy One Get One Free on boxes. Take advantage of this by stocking up on packs of these cards, then reselling at regular price to supporters.
As you're running a fundraiser, you may even be able to get away with charging a slightly higher price. For example, if there's a BOGOF offer where you get two packs of Christmas cards for a total of $5, you could try reselling these for $7.50 each. This would result in a profit of $10 for every two packs you then sell – not too shabby if you can get many parents and other adults supporting the fundraiser.
Self-Designing
If you have some creative young people in your youth group, get them to design some Christmas cards. These can then be produced using a site like Zazzle.
The good thing about this second option is that unlike reselling cards, you don't have to spend anything in advance to plan this Christmas card fundraiser. Instead, you can set up a store on Zazzle and provide links for people to order directly from there. You can also register to become an affiliate, meaning you'll also earn an additional 15% of the value of each order, greatly increasing the amount of money you raise.
Photoing
A third option is to produce personalized Christmas cards as a fundraiser. With this option, you organize a photo session where families come and get their photo taken. You then take their orders for the amount, size and design of the Christmas cards they'd like.
The cards can then be easily produced via sites like Snapfish and Shutterfly. You can usually get discounts for bulk ordering as well as free shipping, so this will help maximize the amount that you fundraise.
Tips
Try to promote your fundraiser as widely as possible. This could be done by producing flyers to send home with your young people and seeing if local businesses are willing to carry them
If your youth group is part of a church, announce the fundraising effort during a church service – this will help ensure that you reach as many members of the congregation as possible, not just those who have children
When planning this kind of fundraiser, it's best to get it organized – and promoted – as early as possible. Otherwise, people who would have supported you may have already bought all their Christmas cards
To make it as easy as possible for people to support you, it's worth accepting credit cards
If you liked these ideas, you may like our other youth group fundraisers, including this Christmas stocking fundraiser.
Question: What other ideas or tips do you have for a Christmas card fundraiser? We'd love to hear these in the comments below.
You can also connect with us by: