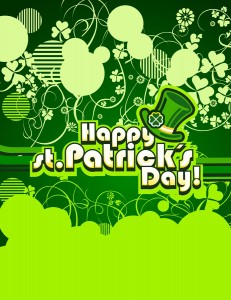 If you're looking for some St Patrick's Day activities, check out these 5 ideas that are great for doing with kids and teenagers:
Activity 1 – Green Things
This youth group game can be done by splitting the group into smaller teams. Give each team a pen and paper and have them list as many different green items that they can think of.
This could include obvious things (like frogs, bottles, etc) to more vague things (bags, paper, etc). You might want to have some catch-all categories for things like vegetables and fruit, rather than them listing 50 different fruits and vegetables – that doesn't have to be the case though.
Before the game, make a separate list of 10 green items of your own. Award one point for every green item that each team has listed, with them earning 3 bonus points for each item that is the same as one on your own list.
To save you time, here are suggestions for what items you could use for your own list:
Boogers

Bottles
Dishwashing Liquid
Eyes
Frog
Guacamole
Incredible Hulk
Nail Polish
Paint
Statue Of Liberty
Activity 2 – Green Food
The second of our St Patrick's Day activities is to have the youth make all kinds of different green food. This could include ingredients that are naturally green like fruit, vegetables, pistachio nuts, Jell-o, etc, but you can easily jazz up other ingredients for St Patrick's Day.
Just get some green food coloring and add it to milk, rice, mashed potatoes, eggs (for green eggs and ham!) and more.
Activity 3 – Pot Of Gold
For this youth group game, you'll need some pots (or buckets), masking tape and gold coins or chocolate coins.
Put a line of masking tape on the ground. Split the youth group into teams and have them stand in lines behind the tape. About 10-15 feet away, put a pot in front of each team and then give each team the same number of coins.
Team members should take it in turns to try and throw the coins into the pot/bucket. The team that manages to land the most of their coins in their pot wins. If using chocolate coins for the game, you could give those as a prize.
Activity 4 – Scavenger Hunt
Organize a St Patrick's Day scavenger hunt for your group where they have a list of items that they have to collect – what gives it a St Patrick's Day theme is that all the items they find have to be green.
You can find a more detailed explanation of how to organize this scavenger hunt here, where you can also download a free printable list.
Activity 5 – Go Green
Our final suggestion is to get your young people to go green by doing some kind of environmentally friendly activities. Plant some trees, do a litter-picking fundraiser, have a recycling drive, etc.
Question: What kind of St Patrick's Day activities are you doing with your youth group? Let us know in the comments below.
You can also connect with us by: