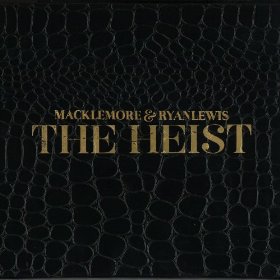 Recently, Macklemore (and Ryan Lewis) has begun to make a name for himself (in the mainstream) in the US and UK with his song 'Thrift Shop.' I think we can all agree that song is "freaking" awesome! Besides being incredibly catchy and fun, it has a deeper message about consumerism.
Stephen then found Macklemore's song 'Same Love' and we really started to appreciate his musicality, rhymes and messages. I started listening to his entire album, The Heist and found even more great songs.
One of my new favorites is Wing$ which has very powerful lyrics and music video. The main idea that I drew out from it (although like most of his songs it has multiple levels of morals and lessons) is that our consumer culture tells us we need things – in this case a certain type of shoes – to be someone or something of worth.
Macklemore himself said on his blog "The song "Wings" is about the pursuit of identity through the means of consumerism. The attempt is to dissect our infatuation and attachment to logos, labels, brands and the fleeting happiness that is intrinsically linked to the almighty power of the purchase. The subject I use in the song is shoes, but its aim is to paint a broader picture of being a consumer and tracing the lineage back to my first memory of retail infused desire."
Here's the video for Macklemore's Wing$ – n.b. language warning – preview first (email subscribers click here to watch):
Macklemore and Ryan Lewis – Wings Lyrics
You can use this video and/or the song's lyrics for multiple youth work session discussion ideas about youth consumerism. Here are a few to get you started:
1. Macklemore has said that the song is about his first experience of "retail infused desire". What do you think this means?
2. What does this say about consumer culture and how it affects us and how we care for our things? Why do people buy knock-offs?
The box, the smell, the stuffin, the tread, in school
I was so cool
I knew that I couldn't crease 'em
My friends couldn't afford 'em
Four stripes on their Adidas
3. Why are logos so important? Some people cover the logos on their shirts with duct tape. Why do you think they do that? (Most say that they're not a billboard or being paid to advertise for that company)
On the court I wasn't the best, but my kicks were like the pros
Yo, I stick out my tongue so everyone could see that logo
4. Do you know anyone who has been hurt for their gear? What happened? Why would someone murder someone for shoes or a coat – is it really about those things?
And then my friend Carlos' brother got murdered for his fours, whoa
See he just wanted a jump shot, but they wanted a Starter coat though
Didn't wanna get caught, from Genesee Park to Othello
You'd get clowned for those Pro Wings
5. What are some things that teens you know stand in line for, spend their money on or take from others? Why are those items important? Macklemore thinks it's about trying to fit in – why is it important for you to fit in but also to be individuals?
I was trying to fly without leaving the ground, cause I wanted to be like Mike, right
Wanted to be him
I wanted to be that guy, I wanted to touch the rim
I wanted to be cool, and I wanted to fit in
I wanted what he had, America, it begins
6. What kind of things are you consumed by? Why do you think it's important to keep shoes in such pristine condition – like only wearing $300 shoes on Sunday so they don't get worn or have the whites marked?
I'm an individual, yea, but I'm part of a movement
My movement told me be a consumer and I consumed it
They told me to just do it, I listened to what that swoosh said
Look at what that swoosh did
See it consumed my thoughts
Are you stupid, don't crease 'em, just leave 'em in that box
Strangled by these laces, laces I can barely talk
That's my air bubble and I'm lost, if it pops
7. Is it wrong to want things? Is a consumer culture a bad thing – why or why not? Do you agree that some items that we make into icons like shoes, electronics and clothes are 'just another pair of shoes' or are they more significant?
Consumption is in the veins
And now I see it's just another pair of shoes
Questions: How would you use this video or song with your young people to explore youth consumerism? What discussion questions might you pull out from the lyrics?
Don't miss out on future posts by: