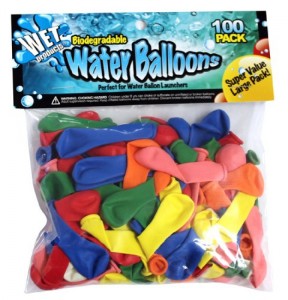 This week's addition to our collection of youth group games is a water balloon relay – fun to play, simple to organize and potentially very, very wet!
Here's how to play the Water Balloon Relay:
Resources
Water balloons
Buckets
Markers of some kind (e.g. cones, chairs, duct tape, etc)
Towels
Preparation
Fill up all the water balloons and place them in the buckets (one bucket per team)
Put the buckets in a line at one end of the playing area – this will be the starting line
Place the markers in a parallel line about 10-20 yards away from the buckets (depending on how hard you want to make it!)
Split the youth group into same-sized teams
Rules
Have each team line up behind a bucket of water balloons. The first person from each team should put one of the balloons between their legs.
The challenge is for them to move to the other marker, go round it and then return back to the starting line. They can try to do this by jumping, shuffling, waddling, crawling or any other possible movement.
The only restrictions are that the water balloon must remain between their legs and they're not allowed to use their hands to touch the balloon (other than when placing the balloon between their legs at the beginning).
As this is a relay, when they get back to the start line, the next person on their team does the same thing.
Options
Due to the nature of this youth group game, there's a good chance that players will get very wet due to the balloons bursting while they're in the race. If that happens, there are a few options you can choose to enforce:
1. One strike and you're out!
If a player bursts their balloon, they're out – the next player on their team then has their turn.
2. Three strikes and you're out!
Similar to the first option, a player gets three opportunities to complete their leg of the relay race. If choosing this option, a player has to continue from where they burst their water balloon.
If choosing this option, try to have volunteers on hand to give them replacement balloons – that will help ensure they continue from the same spot. It also means that you'll need to prepare three water balloons per player in advance, just in case.
3. Unlimited Do Overs
With this final option, players get as many opportunities as they need to complete their leg of the relay. They have to continue from where they burst their water balloon.
Again, try to have volunteers on hand to replace the burst water balloons. One thing to bear in mind is that you'll need to prepare a much larger number of water balloons. If a player uses too many on their turn, it could result in some players not getting a chance, so this isn't recommended unless you have a small youth group and lots of balloons!
Winner
This will depend on which of the three options above you choose. With both the one and three strikes options, the winning team will either be
The one that has the most players complete their leg of the race without using up their allocation of balloons, or
The fastest team to finish if all their players make it round with a balloon intact
If playing the unlimited do overs option, the winning team is the one that finishes first.
Prize
If you want to offer a prize, an option that the youth will love is to let the winners throw the rest of the balloons at the leaders!
If you liked this idea, check out all our other game ideas.
Question: Have you ever played this water balloon relay? If so, did you add in anything else or have different rules? Or can you think of any other good prizes/rewards for the winners? Let us know in the comments below.
You can also connect with us by: