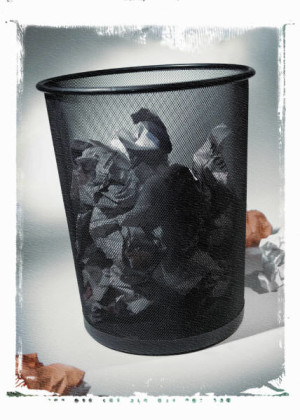 If you want to play a fun youth group game that can be used in all kinds of ways, give Great Balls Of Paper a go.
It's active, versatile and requires no preparation – here's how to play it:
Resources
Loads of newspaper

Wastepaper baskets or buckets
Masking tape (optional)
Preparation
No preparation is necessary – perfect for when you need to switch from one youth group activity to another without having time in between to set up.
Location
This can be played indoors or outdoors.
Instructions
The basic instructions for this game are that you'll have some young people holding a wastepaper basket on top of their head.
About 10-15 feet away from each of them, other youth will be standing with some newspaper. Their challenge is to scrunch up the paper and try to throw it into a basket.
Options
As we mentioned, this game is pretty versatile, so here are some different ways it can be played:
Upfront Game
Pick 6 or 8 young people to play this upfront and split them into pairs. One person from each pair will be the basket holder and the other will throw the newspaper
Relay Game
To get your entire youth group playing this, organize it as a relay game. Split them into teams, with the basket holders standing in a line.
Their teammates stand in a line and take it in turns to throw paper.
Rapid Fire
Split the youth into four teams. The teenagers holding the wastepaper baskets need to stand in the center of the playing area with their backs to each other, thereby facing in four different directions.
The rest of the players need to stand in a row in front of their teammate, effectively creating a square/diamond around the players in the center. When you say go, they have to start throwing the paper.
This means there'll be loads of newspaper flying through the air at the same time. It also means that if they're not careful, they might miss their team's basket and fill up an opponent's instead.
Tip
Use masking tape on the floor to indicate where the basket holders should stand, as well as to mark out a line that the throwers should stand behind.
Winners
There are also a couple of ways to choose a winner:
Time Limit – The winning team is the one who gets the most paper in their basket within a certain time limit
Target – The winners are the ones who are the first to get a set number of newspaper balls in their basket. This version will need volunteers keeping count so that you know who reached the target first.
If you liked this idea, check out all our newspaper games, along with all our other games for youth groups.
Question: What would you suggest to make Great Balls Of Paper even more fun? We'd love to hear your suggestions in the comments below.
You can also connect with us by: