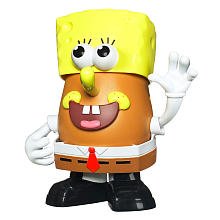 This week's youth group game idea is Spongehead, a water relay that ensures all your young people will get nice and wet.
Here's how to play it:
Resources
Large sponges
Large buckets
Small buckets
Water
Measuring jug
Towels
Preparation
Fill up the large buckets with water, put a sponge in each of them and set them out in a row – this will be the start line.
Put the small buckets in a row that's parallel to the large buckets, but about 10-20 yards away.
Teams
Split the group into equal-sized teams and have each team stand in a line behind a large bucket.
Rules
The first person from each team picks up the sponge, holds it above their head and runs to the smaller bucket. They then have to wring the sponge to try to get as much water into the smaller bucket as possible.
Once they've done that, they run back and pass the sponge to the next person in line who does the same thing.
Winning Team
This will be the first team that fills the smaller bucket. If none of the teams manage to completely fill the smaller bucket by the time the larger bucket is empty, the winning team will be the one that managed to transfer the most water into the smaller bucket (using the measuring jug if necessary).
Tips
This water relay game will ensure that everyone gets completely soaked, so it might be worth letting the youth group know in advance that they may want bring a change of clothes.
Some players will try to avoid getting wet by not holding the sponge over their head. If you spot anyone doing this, make them go back and re-soak the sponge (or shoot them with a super-soaker)
If you liked this water relay game, check out all our other games for youth groups.
Question: What other elements would you add to Spongehead to make it even more fun? Let us know in the comments below.
You can also connect with us by: