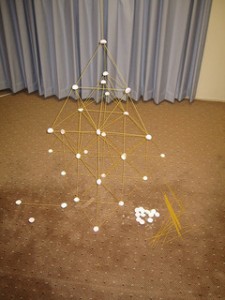 The Spaghetti And Marshmallow Tower is a classic youth group game that you may well have played as a young person yourself.
In case you've never played it (or forgotten how it's done), here's how to play it:
Resources
1 pack of spaghetti per team
1 pack of large marshmallows per team
Measuring tape
Preparation
One of the best things about this game is that there isn't really any preparation that needs to be done! All you need to do is split the youth into teams and give each team a pack of spaghetti and a pack of marshmallows.
If you only have a small youth group, you could always have the young people do this activity individually. It's a great team building activity though, so we'd suggest having them all work together rather than separately.
Rules
Teams have to build the tallest tower that they can using only the marshmallows and spaghetti. The tower has to be free-standing, so the young people aren't allowed to support it once it's completed.
Set a time limit that they have to finish their tower by. Warn them when they're about 1 minute from the end so that they can ensure that their tower's free-standing.
Winners
The winning team is the one that has the tallest spaghetti and marshmallow tower. If it's not easily identifiable which is the tallest tower, use a measuring tape.
In the unlikely event that two teams have towers that are the exact same height, set up a tiebreaker. Teams have to pick up and move their construction to the other side of the room. The team with the tallest freestanding tower once it's been moved is the winner. (n.b. players aren't allowed to fix any breakages while it gets moved).
Talking Points
Not only is the spaghetti and marshmallow tower good as a team building activity, but it can also be used as a conversation starter for many different talking points. Here are some suggestions:
Having a firm foundation in life
Having balance in life
Working as a team
Supporting each other
If you liked this idea, check out all our other youth group games, including a number of marshmallow games.
Question: Do you play a different variation of the spaghetti and marshmallow tower? We'd love to hear any other ideas you have in the comments below.
You can also connect with us by: