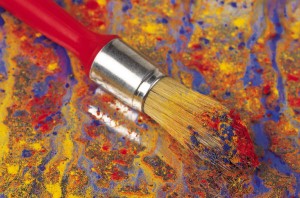 We all know that the media, adults and society in general have a low opinion about a lot – if not most – of the activities of young people. Why not spend a session (or a few) designing posters for around your local area focusing on the great things that young people do.
You might also enjoy trying your hand at green graffiti, although check with your local government first – you don't want bad press about good young people!
Volunteering Matters in the UK has a poster competition going on now. If you're a reader in the UK or anywhere in the EU, get your youth on the case. There is a great prize for selected posters to be hung in a gallery! Get your entries in by June 10th!
Young people can do great things…  CSV launch poster design competition to champion young people

This spring, young people are being challenged to show off their artistic talents in a poster design competition – #giveachance – run by the charity CSV (Community Service Volunteers). The competition revives a nationwide poster competition run by the charity in 1984, which carried the strapline: Young people can do great things… if you give us a chance.

Keeping the original 1984 strapline, we want 2013's generation of young people to show us their artistic talents by designing their own posters, championing young people and the great things they are capable of achieving. As in 1984 young people are under attack. The increase in tuition fees, the prevalent culture of unpaid internships, and sky-high youth unemployment all make it hard for young people to shine.

CSV has always worked with young people to highlight their unique contributions to society, from its Springboard projects helping young people into work and training, to providing volunteering opportunities to help others.

Entering is simple. We're inviting people to tweet their designs mentioning @CSV_UK and using the hashtag #giveachance, or upload to Facebook mentioning their page. Alternatively designs can be emailed to web@csv.org.uk

Catherine Flood, Curator of Prints at the Victoria and Albert Museum and author of British Posters: Advertising, Art and Activism, will select the winning competition entry and all entries will be displayed on the CSV #giveachance Pinterest board. The winning and commended designs will be displayed at a special exhibition at Springboard Hackney, and the winner will also receive a signed copy of British Posters.

The competition launches on Monday 13th May 2013 and closes at midnight on 10th June 2013.

About the campaign:

The poster competition is part of CSV's 'Volunteer Champions' campaign, celebrating the role volunteers play in changing lives everyday across the UK.

How you can get involved:

Please show your support for the CSV #giveachance competition by writing about it on your blog or encouraging your social media followers by either tweeting on Twitter using the hashtag #giveachance or sharing our campaign on your Facebook timeline.

For more information visit www.csv.org.uk/postercompetition
For competition promotional images please visit our dropbox folder or blogger assets page.
Even if you don't live in the EU, you could organize a poster competition with other local youth groups or youth agencies around the same (or your own local) theme. The possibilities are endless for getting the word out about the great things young people are doing where you live!
Question: What other ways can you increase a positive profile of young people in your community? We'd love to hear your thoughts in the comments below.
You can also connect with us by: