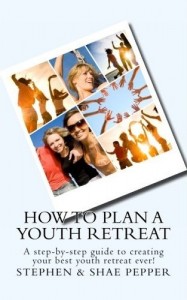 As we mentioned the other week, youth retreat themes can be one of the hardest parts of planning a youth retreat. As it's a topic you'll be covering for a whole weekend (or possibly longer), it needs to be something that speaks into the lives of your young people.
A self esteem youth retreat theme is therefore a great topic to cover, as no matter what group of youth you're working with, it's likely that self-esteem will be an issue for most – if not all – of them. Below, we've set out a number of activities that you could use for a self esteem youth retreat theme.
Self Esteem Video
As you have a lot more time with young people on a youth retreat, there's usually more of an opportunity to watch a movie than there would be during a usual youth work session. A great movie with the theme of self esteem is Easy A. This features Emma Stone as Olive – a high school student who uses the school's rumor mill to improve how people view her and to make her stand out more.
Olive ends up building an ever larger web of lies in her attempt at improving her identity and self esteem. Easy A looks at the natural and logical consequences of her actions and the realization that what other people think of her maybe isn't quite so important.
n.b. Easy A has some content that you may deem to be inappropriate for your youth group, so watch the movie first to make sure you're happy to use it.
Self Esteem Debate
Split the young people on the youth retreat into two groups. Have them debate an issue relating to self esteem – possibly using some of the issues from Easy A as a starting point, such as using sex or lying as a way to boost your self esteem/change how people look at you.
Self Esteem On A Christian Youth Retreat
If your youth retreat is being run through a church, looking at the story of Samuel could be a great way of looking at self esteem. From 1 Samuel 16:7 – But the Lord said to Samuel, "Do not consider his appearance or his height, for I have rejected him. The Lord does not look at the things people look at. People look at the outward appearance, but the Lord looks at the heart."
Self Esteem Quotes
This activity could be done in a couple of ways:
Display a self esteem quote on a screen. Give your youth a couple of minutes to consider the quote, then ask them for their thoughts on it. Do they agree with the self esteem quote – if so, why? If not, why not?
Spread out the youth around the room and give each of them their own self esteem quote on a piece of paper, along with a blank piece of paper and a pen. Similar to the first option, have them consider whether or not they agree with the quote, then write down why they feel that way. If they don't agree with the quote, how would they rephrase it? If they do agree with it, is there anything they would add to the quote? Have each young person present their thoughts to the rest of the group – although this could be nerve-wracking for some of the youth, it's a good opportunity to work on their public speaking and in turn improve their own self esteem
Spirit Wire has many self esteem quotes – here are a few that might be more appropriate to use with youth, either due to the quote itself or because they might admire the person who said it:
Everybody is a genius. But if you judge a fish by its ability to climb a tree, it will spend its whole life believing that it is stupid – Albert Einstein
I think everybody's weird. We should all celebrate our individuality and not be embarrassed or ashamed of it – Johnny Depp
If you're wearing a disguise for too long, it will be difficult for the mirror to recognize you. At the end of the day I hope you become the person they didn't expect you to be. Be proud to wear you – Dodinsky
Having a low opinion of yourself is not "modesty". It's self-destruction. Holding your uniqueness in high regard is not "egotism". It's a necessary precondition to happiness and success – Bobbe Sommer
I was once afraid of people saying, "Who does she think she is?" Now I have the courage to stand and say, "This is who I am." – Oprah Winfrey
Wanting to be someone else is a waste of the person you are – Kurt Cobain
I have missed more than 9000 shots in my career. I have lost almost 300 games. On 26 occasions I have been entrusted to take the game winning shot… and missed. And I have failed over and over and over again in my life. And that is why I succeed – Michael Jordan
It is not our abilities that show what we truly are…it is our choices – Dumbledore
Self Esteem – Exercise
Exercise is actually a great way of boosting self esteem in young people for a couple of reasons:
It boosts endorphins, so this can improve self esteem and general happiness levels
It gives youth a sense of achievement
The options for games/exercise for your self esteem youth retreat will vary – it'll often be based on what activities are available at your retreat center or close by. Options could include:
Going on a hike – make it harder (and therefore producing a bigger sense of achievement) by putting youth in charge of following a map/directions
Rock/wall climbing
High ropes courses
Ensure that the activities are challenging, but achievable for all your youth. If one or more of your youth have a paralyzing fear of heights, a high ropes course of rock climbing might prove to be counter-productive.
Self Esteem For Girls
If your youth retreat will only have girls on it, check out these self esteem activities for girls.
Other Self Esteem Activities
Check out our previous self esteem youth work session plan for a couple of further ideas: Fan Mail and the Multiple Intelligences Test.
** If you're planning a youth retreat, our book takes you through the planning process step-by-step – discover more about

How To Plan A Youth Retreat

 **
Question: How have you covered the topic of self esteem with your youth group? We'd love to hear your ideas in the comments below.
You can also connect with us by: