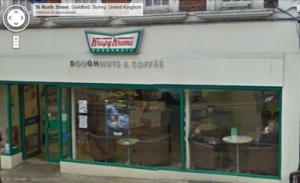 Now this is a fundraiser we love! A Krispy Kreme fundraiser for youth groups is perfect as it's a way to raise funds in the most tasty way possible. One of the best things is that a Krispy Kreme fundraiser is possible not only for our US readers but also other countries, including the UK where we used to live.
Ah, Krispy Kreme in Guildford, England, how we miss thee. With thou heavenly Chocolate Dreamcake – angels wept over the chocolate fudge filling and the perfectly formed chocolate curls. We gazed upon its beauty and declared it good. Yet why – with the US being the Eden of donut-y goodness – are we not able to partake in the consumption of the Chocolate Dreamcake. Why must our selection be so restricted, yet ye Olde English get to sample multiple delights?
I digress.
So how does a Krispy Kreme fundraiser for youth groups work? Your group buys dozens of Krispy Kreme donuts at a large discount (usually about half price) and re-sell the donuts at regular price, or even a little higher. This can therefore give you a great opportunity to make a good profit for just an hour or two's work.
Here are some ideas of places you could re-sell the donuts (some of these you'll need to get permission to do):
After a church service while people have coffee
At the same time as doing a car wash fundraiser – those drivers might get hungry while they wait
During lunchtime at your young peoples' school or college
Outside grocery stores
At sports games
To office workers
At intersections with traffic lights – waiting drivers are sitting targets
Tip – maximize the amount you raise by also selling beverages at the same time. You can get a case of 24 bottles of water for about $4 – sell each bottle for $1 and you make $20 profit per case.
OK, seriously Krispy Kreme – the UK get a Jaffa Dreamcake now? And Australia get the Donut Sundae? Show us US residents the love! (Japan can keep their soy milk cake though).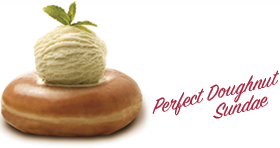 For more information on Krispy Kreme fundraising in your country, check out the links below:
n.b. it might be possible to organize Krispy Kreme fundraisers in other countries Krispy Kreme have stores, but I don't speak Japanese, Indonesian, etc so can't tell from their country's websites if this is something they offer. Sorry.
If you've found this fundraiser helpful, you may like our other ideas for youth group fundraisers.
You can also connect with us by: