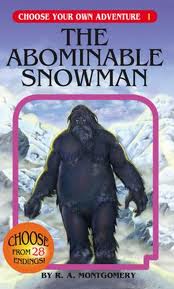 This week's youth work session plan idea is a throwback to those childhood favorite books – Choose Your Own Adventure.
If you're not familiar with these books, they start off as a normal book but with you assuming the role of the main character in the book. After a few pages, you'll be given a choice of two or three options, with each option taking you on a different path through the book. Every few pages, you'll be given further choices, meaning that there are dozens of different stories and endings within the book.
This activity is therefore perfect for helping young people explore the choices they make and the consequences that go along with them – an essential life skill.
Here's how to run this session:
Resources
Blu-Tack / Adhesive putty
Pens
Preparation
Stick a long stretch of the paper roll on a wall (or stretch out on the floor).
Explain
Explain to the youth that they'll be creating their own Choose Your Own Adventure story, explaining briefly what this is in case they don't know.
Situation
Choose an initial situation that they might commonly find themselves in and write this on the left hand side of the paper roll.
This could involve any kind of situation, but try to choose something that might be an issue for your young people, such as:
Getting in trouble in class
Arguing with parents
It may be that your group of young people is together as a result of a certain issue, like substance abuse, criminal behavior, etc. If so, those would probably be a better choice for an initial situation.
It's worth having a situation already chosen before starting the session, so that no time is spent having to reach a consensus – they'll get a chance to choose a situation later in the session.
Identify Options & Consequences
Read out the initial situation that you've chosen. The young people then need to choose two different options that they'd have in that situation.
Branch out from that first situation and write down the two options they've come up with. Both of these choices would have consequences, so write the consequences next to each of the choices.
Next, have them come up with another two options for each of these subsequent situations that they find this in. Continue with this until there are many different ultimate conclusions. There's no limit to how many choices and consequences you do in this activity, but see the example below for what it might look like: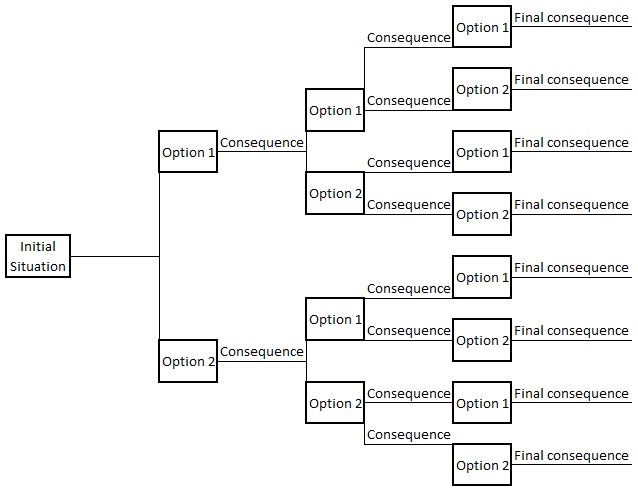 Individual Situations
Once they've completed this activity as a group, give each young person a long stretch of the paper and a pen and get them to create their own Choose Your Own Adventure.
Encourage them to choose a situation that they struggle with – explain that no one other than you will see what they write. If you're concerned that they'd still have a hard time being open about this, you could just as easily set it up so that they get to keep what they've worked on so that no one else will see it.
Discussion
Once they've completed this activity for themselves, discuss what they thought about it. Here are a few questions to get you started:
How hard did you find the activity?
Was it easy to think of the different choices you had in each situation sitting here?
Is it easy to think of the different choices you have when you're actually in the situation?
How do you feel about some of the consequences you came up with?
What can you do in the future when you find yourself in this situation?
For similar activities that help young people with making choices, check out these other ideas:
You may also like all our other youth work session plan ideas.
Question: Do you have any additional ideas of how to run a Choose Your Own Adventure session? We'd love to hear your ideas in the comments below.
You can also connect with us by: