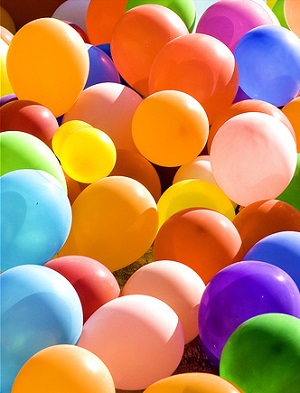 This week's addition to our youth group games is a fun and challenging relay game for teenagers.
It's also a great way of encouraging team building between your young people by having them work together towards a common goal, in both pairs and as part of a team.
Here's how to play the Back To Back Balloon Relay:
Resources
Location
If you have a large enough room, this can be played indoors. If playing outdoors, it's best to play this on a grassy area rather than in a parking lot or anywhere else that has a concrete floor.
Preparation
Blow up the balloons – you'll need one per team, plus a few spares just in case any burst
Mark out a line at one end of the room using some cones or chairs – one for each team. Leave about 5 feet between each one so that players have enough room to move without bumping into each other
At the other end of the room (or 20-30 feet away), lay out a duplicate row of cones or chairs that's parallel with the other line
Teams
Split the youth group into smaller teams – the same number of teams as you have cone lanes. Ideally, you'll want to have an even number of players on each team.
Have each team group themselves into pairs – they'll probably find it easiest if they're paired by similar height.
Instructions
Give the first pair in each team a balloon. Have them stand back to back and put the balloon between their backs – they may need a teammate to help with this.
When you say 'Go', they have to walk to the other end, around the cone or chair and then back to their team, with the balloon staying between their backs the entire time.
Once they've made it back to their teammates, the next pair has to do the same thing, and so on.
Back To Back Balloon Relay Rules
If the balloon drops to the ground, they have to stop where they are, place it between their backs again and only then can they continue.
If the balloon bursts, they have to return to the start line and get another balloon from you.
Too Easy?
If the youth group finds this game a little too easy, play it again but set an additional rule that if the balloon drops to the floor, that pair has to return to the start line and try again.
Too Difficult?
If you think your young people may struggle with coordinating with their partner, give them a couple of minutes before you start playing to come up with a strategy.
(n.b. The best way to make sure they walk with the same rhythm is to have one person in each pair say 'Step, step, step' as they're walking along, so that they keep sidestepping at the same pace.)
Safety
Your youth will be trying to complete this game as quickly as possible, while potentially being off balance while doing it.
If you're playing inside, it's therefore best to move anything that could cause an injury if they lost their balance and fell onto it. This is why it's also best played on grass if you're going to be doing it outdoors, rather than in a parking lot.
Winner
The team that has all their pairs complete the course first.
If you liked this youth group game idea, check out all our other relay games for teenagers.
Question: Can you think of any ways to make this balloon relay even more fun? We'd love to hear your suggestions in the comments below.
You can also connect with us by: