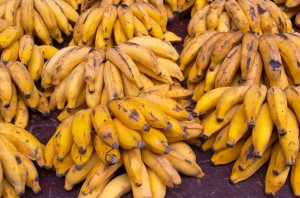 The Banana Sprite Challenge is the Best. Game. Ever.
OK, maybe not EVER but it's a really fun one – all the youth I have worked with remember it at the end of our times together and ask to do it again from time to time.
Resources
1 small prize for the winner
1 Trashcan
For Each Participant
1 Can of Sprite
1 Banana
1-3 Chewy Candies or Sweets depending on size (Anything chewy will work – in the UK I used 1-2 Maoam and in the US 2-3 Laffy Taffy)
Set up
Everyone stands in a circle.
Give everyone their resources.
Put a trashcan in the middle – you'll see why as the race progresses.
Directions
When you say go, challenge each participant to eat their banana, candy and drink their entire can of Sprite as fast as they can. The winner is the person who finishes all 3 items of the challenge first and shows you their empty mouth after chewing.
There's no rule about which you have to eat first.
Tip for competitive youth workers
I win (or get close to winning) by eating the candy first, then the banana and then the Sprite. However, I don't get to really win so it's the first youth to win that gets the prize.
Before we start I remind them that I'm a Banana Sprite Challenge professional and have done the game a million times and therefore I don't really get to count, I just play for fun and challenge them to beat me.
If you like this game, you may also like our other youth group games.
Question: What candy do you use for the Banana Sprite Challenge? Let us know in the comments below.
You can also connect with us by: