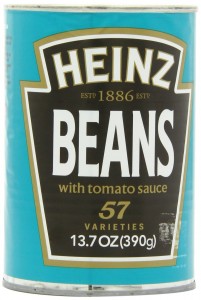 If you're interested in playing a somewhat messy outdoor game, this week's addition to our list of youth group games should do the trick – Baked Bean Land Mines.
Here's how to play it:
Resources
Cans of baked beans

Can opener
Masking tape
Blindfolds
Wet washcloths & towels (for after)
Location
Preferably somewhere outdoors with a reasonable amount of space, although it can be played inside with a tarp (or on hardwood floors).
Preparation
Mark out a pathway on the ground using the masking tape. Two lines of tape should be used to create a path for the players to walk through, rather than just one line being used to walk on.
See the image below for an example path. It can widen and narrow as they walk along, or the lines could be equidistant the whole way if you prefer.
Once the path's marked out, add some piles of baked beans at various points along the path. These should be large enough to make it hard to avoid, but not so large that it's impossible for them to step over. If you have enough beans, also run a trail of them all the way along the strips of masking tape.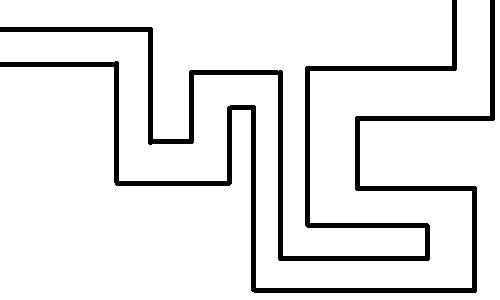 Team Options
There are several ways you can play this game depending on how many young people you have in your youth group:
Up Front – Select 4-6 people to play, with everyone else watching
Small Group – If you don't have more than 12 or so people, you might have time for everyone to take part
Large Group – Select 4-6 people to play, but have everyone else in the group give incorrect directions to those taking part
Instructions
Once you've selected who's going to be playing, split them into pairs. One of them will be a guide, while the other will be the person following the guide's directions.
The person being directed needs to take off their shoes and socks and put on a blindfold. If possible, do this before they get to see the pathway so that they don't have any idea what kind of direction the path takes.
Move the person being directed to the start of the pathway. Their guide then has to direct them along the path to the end, avoiding the baked beans if possible and ensuring they stay within the lines on either side.
Do this for all the pairs taking part. The winner is the team that steps in the least amount of baked beans.
Timer
Make this youth group game even more frantic by adding a time constraint. This will make the blindfolded player hurry when following directions, increasing the likelihood of them stepping in some beans.
Alternative Options
If you don't want to use baked beans, canned peaches can be nice and squelchy too.
For youth groups that don't have any outdoor space and don't have a tarp available for playing this indoors, use dry food instead – Pringles, oyster crackers or corn flakes will all work well for this.
Discussion Ideas
This game is a great introduction into a discussion about following directions or communication. It can also work well as a way to highlight the importance of working as a team and trusting each other.
For Christian youth groups, it might be worth playing the large group version listed above, where everyone is calling out incorrect directions and the blindfolded player has to listen carefully for their partner's correct directions. This can then be tied in with John 10: 1-5, focusing on how it's important to follow Jesus rather than the paths that other people may encourage us to take.
If you liked this game idea, check out all our other games for youth groups.
Question: What would you do to make Baked Bean Land Mines even more fun? Let us know in the comments below.
You can also connect with us by: