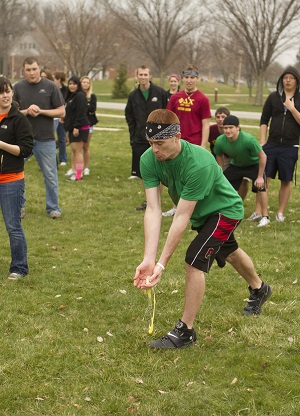 When the weather's nice, it's always fun to play youth group games outdoors. A few weeks back, we produced a list of great water games which proved to be really popular.
Outdoor games don't have be wet though, so here are 7 ideas you can use if you want your teens to stay dry – but not necessarily clean!
7 Fun Outdoor Games For Teenagers
1. The Welly Wang – Strange name, strange game, yet strangely fun! This is a game we played when I was in the UK and it's actually pretty hard throwing a welly (gumboot) a long distance. It's perfect for using if you want to put together some kind of Youth Group Olympics event.
2. Banana Sprite Challenge – This competitive race can also be played inside, but it's best done outside due to how messy it can become. It also means the youth who aren't playing can stand back far enough to not get sprayed 😉
3. The Egg Toss – This is definitely one you don't want to play indoors! It's a youth group classic for good reason – competitive, potentially messy and loads of fun.
4. Human Battleship – This one was also on our list of water games, but there's both a dry and wet version. You need quite a bit of space to play Human Battleship, so it's best used as an outdoor game unless you have a large room available inside.
5. Ready, Steady, Starburst – Help improve your young people's target practice (but not dental health) with this activity.
6. Baked Bean Land Mines – Like the Banana Sprite Challenge, it's best to play this outdoors as it can get a little messy, although of a more squelchy variety. It's perfect for using if you need a game about trust or following directions.

7. Barnyard Animals – And finally, here's another fun candy game. It's quite a goofy game, but the promise of candy means teens are more than happy to play it. It's also good for using in a session about communication.
Question: So those are our 7 ideas of outdoor games for teenagers – do you have any other similar youth group games? We'd love to hear your ideas in the comments below.
You can also connect with us by:
Image credit: Len Colwell, Flickr