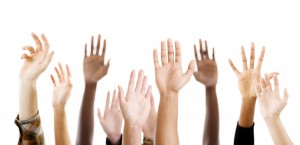 Q: I have a hard time getting and keeping volunteers – they either flake out or burn out. Do you have any tips?
A: Recruiting, managing and maintaining volunteers can be a daunting task. Sometimes you have people banging down your door to help, but that's not usually the case because you don't work with the cute little kids or the cool college age students… you work with the tweens ('between elementary and high school' i.e. middle schoolers) and teens.
We'll unpack these areas more in the coming weeks, but for now here are some easy tips for recruiting, managing and maintaining volunteers for your youth work:
3 Tips For Volunteer Recruitment
Tell stories – Share positive stories with people about what good things are happening in your youth work or ministry. Everyone loves a good story or vision to get behind.
Make volunteering organized – Be organized when it comes to schedules and rosters for volunteers. Everyone loves clear, direct information.
Make volunteering easy – Be ready for potential volunteers to apply and have application packs prepared, easy to complete and get back to them in a timely manner. If you say you need help, be ready to get people involved ASAP. Everyone loves to feel needed.
3 Tips For Managing Volunteers
Have clear expectations – Have a clear volunteer policy or 'job description' that outlines your expectations. Your volunteers will then know what to expect when they get into it.
Get feedback – Meet with your volunteers after sessions so they can know and share immediately what they think worked well and what didn't. This shouldn't take long, so they won't get burned out by long meetings after a session.
Meet regularly – Meet with your entire team regularly – weekly, monthly or quarterly depending on your organizational and volunteer needs. That way, they feel like they're part of the team and 'in the know' about everything happening currently and in the future of the youth programming.
3 Tips For Maintaining Volunteers
Give them breaks – Schedule breaks and sabbaticals into your volunteer job description or policy so they know they will be able to have a break.
Be professional and reliable – Treat them professionally by being on time for meetings and sessions, calling them, making sure they have their resources and valuing their input.
Incentivize them – Give them incentives in the form of training, particularly with useful and transferable skills like computer skills, people management skills and youth work skills. This can help make up for the fact that they aren't getting paid, but can still build up their resume or CV.
Here is a bonus tip which applies to each step in recruiting, maintaining and managing volunteers:
APPRECIATE THEM
Find ways to thank your volunteers through calls, texts, cards, dinners, gifts, coffees, recognition nights, opportunities for growth/development etc. Whatever you can do to let them know you value them will go a long way in making sure they get involved and stay engaged for the long haul.
Find out from your volunteers how they feel most appreciated and then do that for them. This doesn't have to cost you a lot of money, but it will cost you time. The investment of time is well worth it though when you have a team of committed and happy volunteer youth workers.
Question: What tips do you have for recruiting, managing and maintaining volunteers in your youth work or youth ministry? We'd love to hear your thoughts in the comments below.
You can also connect with us by: