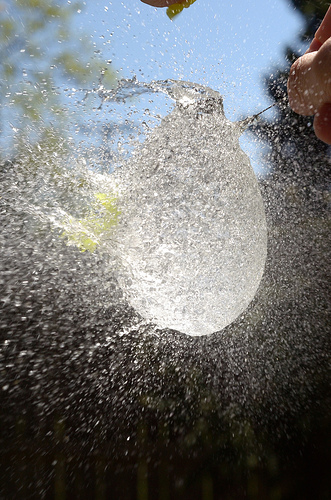 Last week, we gave you a list of 10 activities that you can do for free with your youth group this summer. The first suggestion on that list was to organize a giant water fight.
If you'd prefer to organize some wet games and activities that are a bit more structured than just a free-for-all, here are 10 fun youth group water games.
There are brief descriptions of each of the game ideas below, along with links to posts that give step-by-step instructions and rules for each one.
Enjoy!
10 Water Games For Youth
Waterface – This relay game is a surefire way of making sure that all your young people get soaked – particularly their faces.
Spongehead – The first game involves the students' heads getting wet while laying down – Spongehead has their heads (and the rest of their body) getting wet while upright and running around.
Water Balloon Relay – Water relay games are one of the best ways of ensuring all your young people have a chance to get wet – this balloon relay is no exception. Make sure you video this game being played as it'll be hilarious, with youth waddling, shuffling and crawling their way through the relay.
Water Balloon Toss – This idea is similar to The Egg Toss – the youth group game classic that involves young people tossing eggs to each other and trying to catch them without breaking. Same thing here, but using water balloons instead of eggs.
Bowl Hole – This is a fast and frantic water relay, with an option to make it a little like Spongehead to ensure that the youth get really soaked.
Water Balloon Dodgeball – This idea doesn't have many rules – it's basically dodgeball with water balloons.
Human Battleship – This one doesn't necessarily involve water, but it's fun to throw water over the young people when the battleships (i.e. them!) get hit.
Water Balloon Baseball – You might think it would be impossible to hit a home run when playing baseball with water balloons. You'd be wrong! Check out the post for how this works.
Water Balloon Challenge – The challenge involves teams throwing the balloons and one of their teammates trying to catch them in a bowl on their head. The only question is how many 'accidental' wayward throws will there be?!
Water Balloon Hot Potato – This one's fairly self-explanatory as well – it's like a wet version of hot potato. I'd encourage playing the Ultimate version of it where you use more than one balloon and allow random passing.
Question: So those are our 10 suggestions of water games for youth. Do you have any other ideas for similar youth group games? We'd love to hear them in the comments below.
You can also connect with us by: