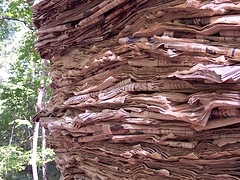 Today's youth work game is one to get all your young people involved in – Newspaper War. It doesn't matter if you only have four or forty youth – they can all take part.
What you need
Loads of newspaper (pre-scrunched up)
Masking tape
How to play
Split the room into four sections of equal size by making a cross on the floor using the masking tape – either triangles or squares are fine.
Split the youth into four teams of equal size and have each group stand in one of the sections. Each team is given a pile of scrunched up newspaper balls.
The aim of the game is to be the team with the least amount of newspaper in your zone at the end of the game. The youth therefore have to throw or push the newspaper balls into the other teams' zones, while defending your own zone against their attacks.
Timing
Shae's said that the best way to cheat win is to store up all the paper in your zone until a couple of seconds before the game ends, then dumping it all in the opponents' zones. If your youth are smart enough to figure this out, consider not letting them know when the game's going to end.
Otherwise, counting down the final 20 seconds can make for a great frantic end to the game.
If you liked this game idea, check out all our other youth group games.
You can also connect with us by: