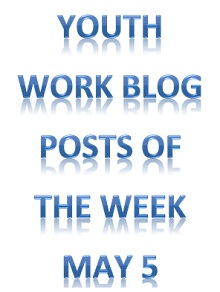 Each week we bring you a list of interesting articles from around the world relating to youth and youth work – here's this week's list:
1. Amsterdam News: Local students prepare for African experience – This article has details of an excellent initiative by the International Youth Leadership Institute where students from New York will travel to Ethiopia for a month. The great thing is that the focus isn't on what Westerners can do to benefit people in Ethiopia, but how they can actually learn so much from Ethiopians.
2. TechCrunch: Crowdfund to pay for a low-income youth's education – College education in the US can be very expensive, so here's a great idea to enable youth to from low-income backgrounds to get higher education through crowdfunded donations.
3. Teenage Whisperer: Helping youth walk in other people's shoes – It can sometimes be hard for young people to empathize with others – in this post, Sam gives some practical ideas to help young people think about others.
4. All Africa: Three youth groups in Gatundu (Kenya) get peace cash – This article has information on three youth groups that have been awarded funding to promote peace and empower youth ahead of the elections in Kenya.
5. Why Is Marko: 4 mindsets for staying put in youth ministry – In this post, Marko explores the mindsets you need if you want to remain in the same youth ministry role (although it equally applies for non-faith based youth workers).
6. Shine from Yahoo: Teen girl petitions Seventeen magazine to stop airbrushing models – Good on her! A 14 year old is challenging Seventeen magazine (and other media outlets) over the way female bodies are portrayed.
7. Youth HOPE: Business school starting in Myanmar – We had the pleasure of Skyping with Aaron & Kyle from Youth HOPE the other day and learned a little more about the excellent work they're doing. This blog post details just one of those things – setting up a business school in Myanmar.
8. Pew Internet: Teens & Online Video – Pew Internet have published a report following research they've done into various online behaviors with some interesting findings.
9. Des Moines Register: Iowa youth address global hunger problem – This articles has the story about how 150 Iowan youth shared their ideas on how to combat hunger and poverty worldwide.
10. Adam McLane: Freebies for registering early for The Summit – Adam & Marko (aka The Youth Cartel) are organizing a conference for youth workers called The Summit. In this post, Adam has a list of all the freebies you'll get for booking your tickets early. We're actually one of the sponsors, so come say hi if you go!
Don't miss out on future Youth Work Blog Posts Of The Week (or any of our other posts) by: