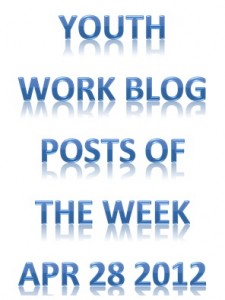 Every Saturday, we give a list of 10 interesting blog posts, articles and stories from around the world relating to youth and youth work – here's this week's list:
1. Examiner – Global Youth Services Day in Palmdale – Last Saturday was Global Youth Services Day. This article details the efforts of youth all over Palmdale who worked on improving their community in many different ways.
2. 13 ABC – Youth work to beautify Toledo – Another article about the actions of young people on Global Youth Services Day, this post and video has information on the 1,500 youth who beautified Toledo.
3. Gulf Times – 360 youth empowered by Rota – Also from Global Youth Services Day, this article describes how 360 youth in Qatar spent the day.
4. vInspired – The importance of storytelling – To celebrate World Book Night, this post looks at the importance of storytelling, reading and literacy, along with a video that details how they're trying to do this.
5. All Africa – National Youth Week in Namibia – This is a really encouraging article about how young people with disabilities in Namibia are being included in the activities of National Youth Week.
6. SE Times – Youth unemployment in Southeast Europe – There's a huge youth unemployment problem all over Europe, but it seems to be worst in Southeast Europe with over 50% of young people out of work. This article looks at some of the initiatives being run to combat this problem.
7. Leader Post – Get Youth Working lives up to its name – Also on the youth unemployment theme, this post has details of how the Get Youth Working scheme in Canada is having a positive impact on the lives of unemployed young people there.
8. Youth Leaders Academy – Dealing with disruptions – In this post by Rachel, she looks at ways to deal with disruptions, especially for youth pastors or other youth workers who are giving a talk.
9. Sentinel And Enterprise – Youth overcome obstacles – This article talks about the programs being run by LUK in Massachusetts to help empower youth.
10. Daily Camera – Boulder teens honored for volunteer work – And lastly, a post about 11 young people in Boulder, Colorado who have won awards for their volunteer work.
Don't miss out on future Youth Work Blog Posts Of The Week (or any of our other posts) by: