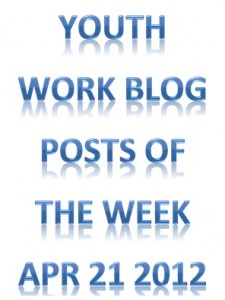 Each week, we bring you a list of some of the most interesting stories from around the world relating to youth and youth work. Here's our top 10 for this week:
1. Santa Rosa: Helping foster care youth find their voices – This is a really inspiring article about how former foster youth are helping current foster youth transition to lives after they leave the care system
2. Youth Worker Movement: I want more texting during my lesson! – This post by Jeremy gives details of a useful resource called Poll Everywhere, making your youth work sessions or services more interactive
3. TechCrunch: Course Hero – The last few weeks, we've linked to a number of different stories about the future of universities vs alternative forms of further education. This post about Course Hero details a new site that curates different teaching videos for people to learn coding and entrepreneurship
4. Joystiq: Ten year old creates video game for his blind grandmother – The talent and sheer initiative of young people amazes me. This post tells the story of a boy who wanted his blind grandmother to share his enjoyment of the video games he plays, so he created an audio only video game for her to play
5. vInspired: The vInspired Cashpoint – This post details an initiative run by vInspired in the UK, where they provide funding of up to £500 for youth to change their community
6. Pando Daily: Is the future of tech in the hands of the extremely young? – There's a bit of a tech-y theme this week. In this post, Sarah Lacy recounts her experience at the Thiel Foundation's ceremony for its under-20 finalists. This young people were encouraged to drop out of college by Peter Thiel (early investor in Facebook way back in the day). This may sound irresponsible, but he's funded them with a grant to start up their own businesses that seek to change the world. Again, the talent, initiative and vision of young people is awesome.
7. Love Is Youthwork: Youth work isn't self-seeking – In this post, Andy Burns explores our reasons for working with youth and how youth participation can be an important part of our work
8. Maui Now: Be A Jerk campaign – This article reports on an initiative on the Hawaiian island that's trying to discourage underage youth from drinking
9. vInspired: Raising the Participation Age – In this post, vInspired explain more about a UK government policy that legally requires young people to take part in education or training until they're 18 years old (n.b. for non-UK readers, high school finishes when you're 16)
10. Caine's Arcade – And rounding off today's list, yet another young person with talent, initiative and vision. It's a ten minute video, but seriously – it's so worth watching!

Don't miss out on future Youth Work Blog Posts Of The Week (or any of our other posts) by: