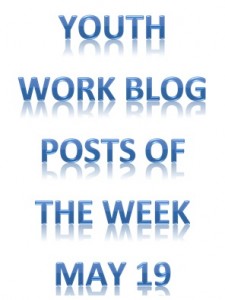 Each week, we compile a list of interesting blog posts and articles relating to youth and youth work from around the world – here's this week's list:
1. Whyismarko: Stop making assumptions about teenagers' brains – This post by Marko is an interesting look at the conclusions being drawn by scientists about the brains of teenagers and how this is leading some to discriminate against youth.
2. Mid-Michigan's Second Wave: Saginaw Youth a force for positive change – Youth participation's the name of the game, with the Saginaw youth advisory board – comprised of 14-21 year olds – making a difference in their community.
3. RE Youth Pastor: Ways to connect with parents of students – Whether you're a youth pastor, youth worker, mentor or whatever, you'll often come into contact with the parents of the youth you work with. This blog post gives some useful and practical tips on how to connect with their parents.
4. Love 146: Who would you be if the world was right – I thought this was an interesting post about our motivations as youth workers.
5. Youth Worker Movement: Jesus was a terrible youth minister – Humor, cynicism and a serious point – love it! Have a read to be encouraged if you don't feel like you're making an impact in your youth work.
6. OC Register: Teen police academy gives Newport youth hands-on experience – Young people can often be suspicious of the police (and vice versa), so this initiative is a great way to improve relations between youth and the police in both directions.
7. Terry Linhart: The death of chubby bunny – This is actually a guest post on Terry's blog, about how we need to make sure our youth work / youth ministry is effective based on the youth we work with and the community we and they live in.
8. Rich Crosby: 4 tips for developing leaders in youth ministry – Rich is the youth pastor at CCK in Brighton (England), a church we were members of a few years back when we lived in Brighton. This post has some ideas on how to develop leaders in your youth work. (n.b. On 27 May, the BBC is broadcasting a live service from CCK before the Monaco Grand Prix, so check it out!)
9. Baldwin City Signal: Baker grad named CNN hero for work with refugee children – This article looks at the way in which Mark Kabban has used sport to help impact the lives of refugee children.
10. The Leader: Businesses sought for summer youth employment program – Youth unemployment is still a big problem, so this article looks at a youth employment program being run in New York, including the launch of a Hire One Youth initiative.
And as a bonus……….
In case you missed it, yesterday I had a guest post featured on Jon Acuff's blog, Stuff Christians Like. So go check out WWJD – What Would Jesus Design.
Don't miss out on future Youth Work Blog Posts Of The Week (or any of our other posts) by: