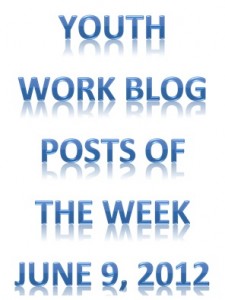 Each week we bring you a list of blog posts and articles from around the world that relate to youth, youth work and youth ministry.
The thing is, I read so many interesting things this week that I couldn't restrict the list to the usual number of 10, so here are the top 15 posts this week:
1. Pando Daily: Pandolist of Teenage Entrepreneurs – Every week, Pando Daily have interviews with 5 experts in a certain tech-related field. This week, they've focused on 5 teenage entrepreneurs. It's a really interesting list and set of interviews, so go check it out and be inspired by young people who deal with things like nuclear fusion.
2. New Canaan News: New Canaan kid clean up local park – This news story is awesome not just because of young people making a difference in their community, but because of all the churches of different denominations working together for the common good.
3. KLTV: ETX Juvenile youth grow garden for community food bank – This article has details of a youth program that not only gives young people on probation skills, but a sense of achievement as well.
4. Elevate: Breaking The Cycle – This post has a fascinating video about fleas (really!) and some great insight into the importance of not setting low expectations for young people.
5. Daytona Beach News Journal: Helping youth read, one book at a time – Last week, our list included a story about a girl who collected books for children who couldn't afford them. Apparently she's not the only one – this story is about a 10 year old girl doing the same thing.
6. Average Youth Ministry: Do you pour into the Leaders or the Least of These? – Benjamin's written a thought-provoking post about what we do to reach the young people on the fringes of our youth work or youth ministry.
7. 7DVT: Why Vermont is paying some teens to take sex ed – This article is about a sex ed program being run in Vermont that encourages youth to participate by passing on some of the program's funding to them.
8. Seedbed: Why youth ministries are not working in America – This challenging post by Adam starts off with quite a depressing concept, but goes on to motivate you to want to make a difference in your community.
9. vInspired: Helping others through volunteering – This post is written by a teenager in the UK who has been collecting books and money, this time for Tanzanian young people. In it, she explains how volunteering not only benefits those receiving the books and money, but her as well.
10. Youthwork Talk: 3 essential plans you should be making now – It's never too early to plan and here Phil lists 3 things that youth workers should be working on in preparation for the fall.
11. KTEN: Church youth group reaches out in Ardmore – This article has the story of another youth group who are spending their summer helping with gardening in their local area.
12. Doug Fields: What makes a college student successful – Doug has an infographic courtesy of onlinecolleges.net that explains factors that can impact on the success of youth at college.
13. All Africa: African youth share their concerns about jobs – A couple of months ago, over 600 youth from a number of countries in Africa met to discuss issues surrounding youth unemployment. This article has  details on some of the proposed solutions.
14. YouthHOPE: The buried treasure of global youth – Aaron has an important reminder to look for the potential in all our young people.
15. Adam McLane: 5 common misreads on teenagers in youth group – This is a great list of misconceptions that youth workers can have about the young people in their group.
Don't miss out on future Youth Work Blog Posts Of The Week (or any of our other posts) by: