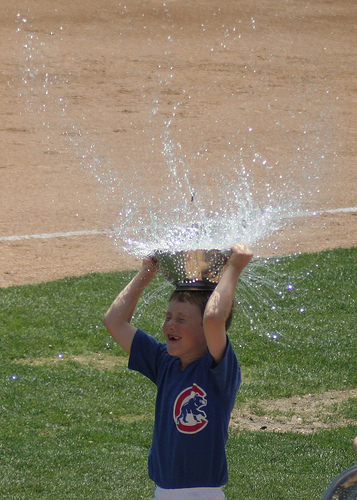 This week we have another water game for youth groups – one that's designed to make a big splash! Here's how to play this water balloon challenge:
Resources
Buckets – one per team
Colanders – one per team
Cones or ropes
Towels
Location
This is definitely one of those youth group games that you'll want to play outside due to how wet it's going to get.
Preparation
Fill up all of the water balloons and put them in buckets of water to prevent them from bursting early. Provide at least 20 balloons per team (more for larger teams).
Make a line using cones or a piece of rope and put the buckets of water balloons along the line, evenly spaced out. Make a parallel line about 20 feet away with some more cones or rope and put the colanders along the line. The colanders should be directly opposite the buckets of balloons at the other end of the playing area.
Teams
Split the teenagers into teams, ideally ones that are the same size.
Water Balloon Challenge Rules
Have each team designate one of their members as catcher – this is the person who'll be getting soaked, so you might want to give them the heads up about that before they decide!
Each catcher should go and stand next to one of the colanders. Have the rest of the players stand behind the other line, with each team next to one of the water balloon buckets and facing the catchers.
The catchers should then hold the colander on top of their head, while their teammates take it in turns to throw the water balloons in the air towards them. Their challenge is to try to catch the balloon in the colander without stepping over their line.
It doesn't matter that the balloons will burst in the colander, just so long as they landed in there.
Winners
The team that manages to catch the most balloons – it's therefore worth allocating one volunteer per team to count how many get caught.
Alternative
If you want to make sure that everyone has an opportunity to get wet, play this as a water relay instead.
You can do this by having one person from each team start as catcher and getting one of their teammates to throw a balloon at them. The catcher then runs to the back of his team's line, while the thrower becomes the catcher.
Keep rotating like this so that everyone has a few opportunities to be both the thrower and catcher.
Question: Have you ever played this Water Balloon Challenge or something like it? Do you have any ideas for how to make it even more fun? We'd love to hear your ideas in the comments below.
You can also connect with us by: