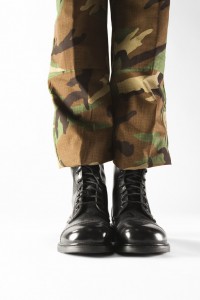 It's Veteran's Day in the US, Remembrance or Poppy Day in the UK and Armistice Day throughout the Commonwealth. We usually spend this day remembering all the men and women who have willingly given their lives to serve in the Military.
However, there are soldiers all around the world who are not serving willingly. They're recruited, drugged and forced into 'military' service.
They are child soldiers.
Despite the fact that one of the articles of the UNCRC is that children cannot become soldiers until they are 18 years old, children are serving in armed conflicts even now.
Today's Spotlight on Youth is on former child soldier Ishmael Beah. His book 'A Long Way Gone – Memoirs of a Boy Soldier' came out a few years ago, but children are still being used as soldiers today all across the world. Here is an interview with him on The Hour in Canada.
Ishmael was able to forgive, overcome and move forward. Despite being a little older than the youth we usually spotlight, the story of his own youth is so compelling that it has to be shared. He has become a role model and advocate for youth all over the world.  If you're interested in his book, you can preview a chapter or buy it from Amazon.
Ishmael was fortunate: UNICEF was able to arrange his release, but many other children and young people are still child soldiers today. You can learn more about child soldiers from Amnesty International and War Child.
Question: What could the youth in your program do to help raise awareness of child soldiers this Veteran's Day weekend? Create a conversation in the comments below.
You can also connect with us by: