Top 10 Youth Work Blog Posts Of The Week – Feb 2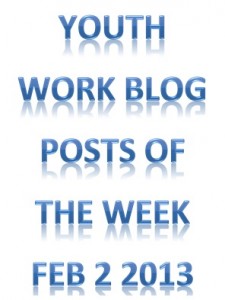 Every week, we bring you a list of our top blog posts and articles from around the world that relate to youth, youth work and youth ministry.
Here's this week's top 10 list:
1. Teenage Whisperer: To be somebody – Sam's written many great posts in her "Their Voice series, where she writes from the perspective of a young person who's dealing with a certain issue.
This week's post is hard to read due to the subject matter – it's about the sexual exploitation of a young person – but is well worth checking out.
2. Adam McLane: 4 outside of the box program ideas for youth ministry – All week, Adam's been writing about programs in youth ministry. Here, he's given four suggestions for programs that youth ministries can get involved in to benefit their local young people and community.
3. Smarter Youth Ministry: Stop communicating with parents and do this instead – If you send out mailings to the parents of your young people and they don't seem to read them, Aaron's got a genius method for getting them to open the letters.
4. Blog Maverick: Will your college go out of business before you graduate? – Mark Cuban's blog is always a good read and this week is no exception. He points out all the trends that suggest that many US colleges are likely to go out of business in the coming years, which could well have an impact on the youth you're currently working with.
5. Ultimate Youth Worker: Do you have a code of ethics? – Aaron's post is brief but raises a good point – as a youth worker, what's your code of ethics?
6. Psychology Today: Mentoring youth matters – This post looks at research studies that show how important mentoring can be in helping young people in their lives. It goes on to list six qualities that good mentors have.
7. Ryan Reed: How to breakthrough the 18 month wall… and thrive! – Youth worker burnout is an issue that affects many people who work with young people. In this post, Ryan's listed four things that he's done to help him through this as a youth pastor.
8. Turning Point Trust: Congratulations – Turning Point have been making a difference in the lives of young people in Kibera, Kenya for many years. Here, they celebrate the educational success that some of their youth have recently had.
9. Youth Ministry 360: The responsibility veteran youth ministers have to new youth ministers – In this post, Benjer suggests three ways that veteran youth pastors can help out their counterparts who are new to the role.
10. Google Science Fair – This one's a website rather than just a post or article. Google are organizing a science fair for 13-18 year olds from around the world, in an effort to find ideas that will change the world.
Don't miss out on future Youth Work Blog Posts Of The Week (or any of our other posts) by: