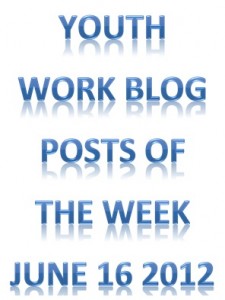 Each week we bring you a compilation of the most interesting, inspiring or challenging blog posts and articles from around the world that relate to youth, youth work and youth ministry.
Here are this week's top 10:
1. UCLA Newsroom: Foster youth overcome the odds to earn their degrees at UCLA – Having worked with foster youth, we know how hard it can be for them to succeed when they have such a disruptive home life – or no home life at all. The Bruin Guardian Scholars team should therefore be commended for the work they're doing in making a real difference in the lives of these foster youth.
2. Women News Network: Lebanon youth groups work to bring society together without discrimination – This is a great article of how youth from different backgrounds and different religions are coming together to develop a toolkit that encourages tolerance and acceptance of each other, rather than conflict.
3. Blacktown Advocate: Bright future for Marist Youth Care graduates – This tells the story of 8 Aboriginal youth workers who have graduated from a training program to work with young people in Sydney, Australia.
4. Telegraph: Now schoolchildren are snorting their ADHD medication. Why didn't America see this coming? – Having seen first hand how ridiculously easy it is for young people to get prescribed medication and then sell it to friends at school, this blog post made for depressing – but essential – reading.
5. TechCrunch: MIT Psychologist says Facebook for pre-teens is "agonizing" – There's talk that Facebook want to remove the age restriction for signing up, whereby you have to be 13 to create an account. This psychologist doesn't think it's a good idea – what do you think?
6. Youth Worker Movement: Finding a job that fits your family – This week, we answered the question as to whether it's more important for a youth pastor to have experience or qualifications. This post on YW Movement looks at another important factor when deciding on a youth pastor job – whether it's good for your family.
7. Martin Saunders: Joel's story – can children change the world? – Martin's son recently wanted to raise £60 to help poor children in the developing world. Did he make his goal? Go read the story to be inspired.
8. Washington Blade: Former Redskin talks coming out, working with LGBT youth – This article has an interview with Wade Davis, a former player in the NFL who now works with LGBT young people.
9. Independent: Son, your pasta calendars were only ever average, if that – I thought this post was pretty funny, about the lies that parents tell their children.
10. Youtube: You are not special – Our final item today is a video rather than a blog post or article. Apparently this commencement speech caused some controversy, presumably because a small excerpt of it was taken out of context. Personally, I thought it was great and well worth watching for the whole 13 minutes.
Don't miss out on future Youth Work Blog Posts Of The Week (or any of our other posts) by: