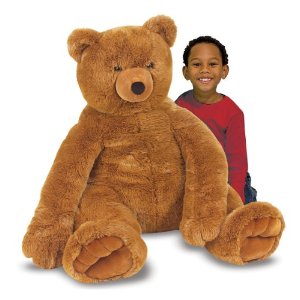 This week, we have a soft and cuddly youth group fundraiser. A Teddy Bear fundraiser gives people an opportunity to win a great prize, while supporting your youth group.
Prize
Get the largest teddy bear you can find, like this one, this one or this one. If possible, try to convince a local toy store to donate one for your youth group fundraiser. If you can't get one donated, this will need to be one of those spend money to make money fundraisers.
When To Organize
The teddy bear fundraiser can be organized at any time during the year. However, it would probably work best in January or November, as this is just before Valentine's Day or Christmas – the winner may like to give the jumbo bear as a present to someone on one of these occasions.
Guess The Name
Once you have a teddy bear, give it a name but don't tell anyone what it is. Put together a list of 100 different names, one of which is the name you've chosen for the teddy bear.
The way this fundraiser works is that people will be paying to guess the name of the teddy bear – that's why the name needs to be kept secret. It's therefore important not to let your young people know what the name is either, in case they let slip to someone what the teddy bear is called.
Fundraising
Charge people $1 – $5 (depending on how much you think people would be willing to pay) to pick one of the 100 names from the list. Give them a receipt, raffle ticket or some other form of confirmation of the name(s) they've guessed. On your list of 100 names, make a note of the person's name, phone number and email address in case they're the winner.
Winner
Once you've sold all of the tickets, contact the person who picked the correct name of the teddy bear and let them know that they're the proud new owner of a jumbo cuddly toy.
Tips
When having people guess names for the teddy bear fundraiser, have the bear with you if possible. Allowing people to see how big and cuddly it is will hopefully encourage them to take part
Have your young people spread the word about the fundraiser, encouraging their friends and family to take part. You could also involve them further by having them help come up with the alternative 99 names
Consider setting up a spreadsheet listing the 100 names and the details of the people who have guessed each name. That way, you've got a duplicate record in case you accidentally lost the sheet of paper you've been keeping track on
If you think there could be a big demand with this fundraiser, consider making a list of 150+ names instead of only 100
Profit
It's possible to raise hundreds of dollars with this teddy bear fundraiser, even if you had to buy the bear in the first place. For example, if you sold all 100 names at $2 each, that's $200 profit. If you had to spend $50 on the bear beforehand, that's still $150 you've made for your youth group.
Repeat
As it doesn't cost much for people to support this fundraiser, this could be the sort of event that you run more than once per year – perhaps just before Valentine's Day and Christmas, even Mother's Day.
If you liked this idea, check out all our other youth group fundraiser ideas.
Question: What other suggestions would you give to someone organizing a teddy bear fundraiser? We'd love to hear your ideas in the comments below.
You can also connect with us by: