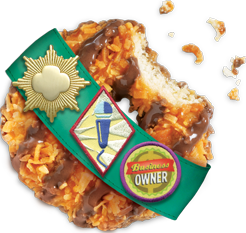 It's the most wonderful time of the year…… nope, not Christmas – Girl Scout cookie time! In honor of these tasty treats, here's a youth group game that uses the best Girl Scout cookies of all – Samoas.
Quick sidenote – in addition to her regular youth work job, Shae also leads 3 girl scout troops. She's therefore organizing several cookie sales and our apartment has been stacked with cases of cookies – having this many Samoas and Thin Mints laying around is very dangerous.
Resources
Samoas

Drinking straws – these need to be fairly thin, but still quite strong
n.b. This activity can also be played with similar shaped cookies like Keebler Fudge Stripes in the US or Fox's Party Rings in the UK.
Preparation
None
Teams
Split the youth group in to smaller equal sized teams – 5-10 players per team is best.
Instructions
Have each team stand in a straight line facing each other's backs. Give each player a drinking straw and the first person on each team a Samoa cookie.
To play this game, they have to slide the cookie on to their straw. They then need to turn around to the next person on their team and slide the cookie down their straw on to the next person's straw.
If they're successful, the player with the Samoa on their straw turns around and passes it on to the next teammate. This relay continues until it reaches the end of the line.
If you only have a small youth group and therefore only have a few young people on each team, have them transfer the cookie back down the line to the first person to make the game last longer.
Specific Rules
Players aren't allowed to touch the cookie with their hands unless it drops on the floor

If the cookie falls on the floor, it has to be put back on the straw of the last person who had it
Players can touch their straw, but only the section between their mouth and the cookie. If this ends up being to easy for your players, play the game a second time where they're not allowed to touch the straw at all
Tip
Have some additional cookies available in case any drop on the floor and break during the game.
Prize
Give the winning team a box of Samoas to share.
If you liked this idea, check out all our other game ideas, including loads of other food games.
Question: What other girl scout cookie games are there? Let us know in the comments below.
You can also connect with us by: