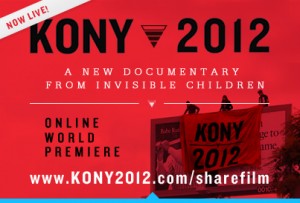 Since the Stop Kony 2012 video started getting international attention, there have been a number of people warning against supporting Invisible Children based on various articles online (examples here and here). This begs the question:
Is the Stop Kony 2012 campaign something we should be encouraging our youth to support?
In my opinion, yes – we should encourage our youth to support the Stop Kony 2012 campaign (check out the Stop Kony 2012 youth work session plan for more ideas). Here's why:
Money
One of the concerns raised about Invisible Children is that only 32% of their spending went on direct services, with much of the rest spent on travel, lobbying, video making, administration, etc.
Now, if you're sponsoring a child and only 32% of your donation each month is getting to the recipient, that's not a great situation. The thing is, that isn't what Invisible Children are trying to achieve – they're committed to having Joseph Kony arrested.
Two of their chief methods of doing this are through awareness raising and lobbying politicians. You'd therefore expect to see higher spending on travel (to visit high schools, travel to Africa, etc), lobbying (of politicians) and video making (the video's been watched over 30 million times at time of writing). Given their objective, what they've achieved so far and the attention they're garnering, I'd say this is money well spent.
Ugandan Army
Another allegation is that there are reports that the Ugandan Army (who Invisible Children work with) have been responsible for cases of rape and looting. Now, I'm in absolutely no way condoning these actions if they're true.
However, as a Brit living in the US, I know that both our own countries' military have committed abuses as well (e.g. Abu Ghraib). That doesn't mean that I think people from other countries shouldn't work with our own military, especially given that the vast majority of the military (in Uganda, the UK and US) aren't guilty of any such actions.
As a Christian, I wouldn't want people to refuse to work with all Christians simply because there are a minority that would do stuff like bomb abortion clinics. Muslims aren't automatically terrorists and Ugandan soldiers aren't automatically rapists.
Motivation of Invisible Children
There have been different criticisms as to why Invisible Children are running this campaign – from having the White Man's Burden to wanting attention for themselves to being hipsters to various personal insults.
To this I say – SO WHAT?
I'll be honest – I don't care what their personal reasons are behind the Stop Kony campaign. Based on the video, I'm giving them the benefit of the doubt that they really are motivated by the plight of Ugandan children over the years.
Even if their sole reason for this is to become famous and get rich though – so what? If they actually achieve their objective of having Joseph Kony arrested – the man at the top of the most wanted list – I don't actually care about their motivations. Yes, it would suck if they're not doing it for warm and fuzzy reasons, but they're still achieving something immense, making a difference in the lives of thousands and bringing justice to a man who has caused so much misery.
Motivation of Supporters
Others are complaining that this is just another example of slacktivism. That raising awareness isn't going to achieve anything. That people are getting a feel-good moment from retweeting or sharing a link on Facebook, but that nothing will change.
Seriously – is this the outlook we should have? That we can't change anything? It's exactly this type of thinking that's let Joseph Kony get away with atrocities for so long – because no one cares.
Having been involved with a charity that worked with youth in Rwanda who were orphaned in the genocide in 1994, I've seen what happens when we ignore this kind of thing. I'm not content with us being defeatist and I certainly don't think we should teach our youth to be that way either.
Instead, imagine the lesson we'll be teaching youth if Joseph Kony is arrested and tried. We'll be showing them that ordinary people really can make a difference. That you can impact people on the other side of the world for good. That you can influence politicians on issues that truly matter.
As a sidenote, here are just a few of the search terms that brought people to our site yesterday – these suggest that people really are being inspired to do something, rather than just retweeting:
Kony 2012 youth ministry
Kony 2012 fundraising ideas
Action plan to Stop Kony
Fundraisers Stop Kony
Fundraising ideas for Kony
Kony 2012 fundraiser ideas
Kony 2012 ideas
By all means, research Invisible Children to learn more about them – teaching youth not to blindly believe everything on the internet is another important thing to teach them. One good place to start is Invisible Children's answers to some of the allegations. If you conclude that they're not an organization you want to support – that's completely cool. No one should be forced or guilted into supporting any organization that they don't agree or are uncomfortable with.
But please – let's stop bashing people and organizations that are trying to make a positive impact in the world, simply because you think don't like them – despite you never having met them.
Because that makes you equally as unlikable.