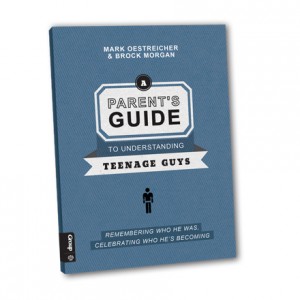 Mark Oestreicher & Brock Morgan – A Parent's Guide To Understanding Teenage Guys
4.5 / 5
We got a free copy of this – along with many other goodies – at the Summit last month. Brock was one of the speakers there and, along with Andrew Marin, was the best speaker.
I was therefore looking forward to reading this but have been really busy recently. I've finally had a chance to read it and am pleased to say it was worth the wait.
At just over 50 pages long it's not a very long book, but it's packed full of wise advice and guidance for parents on how to raise their teenage sons.
There's a lot I liked about it – here are a few of my favorite parts:
1. Overscheduled
One of the challenges they identified is that "teenagers are way too busy and far too overscheduled" with study, sports, jobs, chores, etc. This is so true, although I think a large part of this is cultural. Growing up in the UK, parents don't tend to place such an emphasis on filling their children's lives with extracurricular activities. Here in the US, that seems to be a far more common thing.
Personally, I feel like there should be a happy medium. I don't think it's bad that parents encourage their young people to get involved in other activities – I think that's healthy and can give both teenage boys and girls a sense of community that they need. It's important to not make their lives so hectic though that they get burned out.
2. Perspective 
Brock and Marko encourages parents to also try seeing things from the perspective of their son. In the chapter about the struggles of teenage guys, the section about anger says "Don't rush to squash your son's anger; instead, try to help him understand it. The only rule we would encourage is that in our anger, we don't dishonor, disrespect or hurt people."
I liked this as it emphasizes that although parents should discourage certain behaviors, it doesn't discourage emotion. They also go on to encourage parents to not only help their son to understand the reason behind the emotion, but for the parents themselves to understand why their son feels this way, as that will give further insight into who their child is and what they care about.
3. Taking Responsibility
The tagline of A Parent's Guide To Understanding Teenage Guys is "Remembering who he was, celebrating who he's becoming". I especially love that second part, as it guides much of the thinking throughout the book. The authors repeatedly emphasize the need for parents to both guide their sons in who they're becoming while simultaneously freeing the reins (or the kite strings, to use an analogy from the book).
~
Overall though, I think the book can be summed up in one word:
Hope
Marko and Brock are very real about all the challenges, struggles and issues that teenage boys (and by extension their parents) will face. What's clear throughout the book though is that they don't prey on parents' fears. In fact, they actually write "We must trust the Lord and not parent out of fear".
Instead, they offer a message of hope – that parents can actually have a positive impact in the lives of their child, no matter what they're going through.
There's no "25 steps to raising an angelic son who'll never put a foot wrong", but they do offer examples of good parenting techniques and practical steps that both mothers and fathers can take when raising teenage sons.
This book has been written by two youth pastors and is therefore written from a Christian perspective. Marko and Brock take a holistic approach though, where they focus on all aspects of a teenage guy's development, not just the spiritual element. There's therefore a lot of good stuff in here for all parents, whether they're Christian or not.
~
The only thing I didn't care for about the book was that it felt a little disjointed at times when the authors were giving their own experiences due to the way it was written. This meant there were sentences throughout the book that started:
Growing up I (Brock) had…..
My wife (Marko here), when…..
When I (Brock) was…..
Etc
I complete understand that this is due to there being two authors, so they need to clarify who is writing that section. Personally though, I'd have preferred if those sections had instead started:
BM: Growing up, I had…..
MO: My wife, when…..
BM: When I was…..
That's just my personal preference though – it certainly doesn't detract from the wisdom throughout the book.
I'd therefore recommend it for all youth workers to read, so that you can then encourage the parents of your teen guys to pick up a copy.
Buy A Parent's Guide To Understanding Teenage Guys:
Youth Cartel Store – Paperback