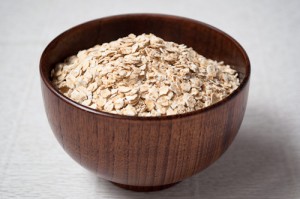 This week's youth group game idea is called Oats So Simple as it uses oats and… well… it's simple to organize.
It's also a perfect activity if you're looking for a messy up front game.
Here's how to play it:
Resources
Lots of oats
Water
Buckets (1 per player)
Tarp
Pens with lids or unsharpened pencils (10 per player)
Towels
Preparation
Mix the oats and water in the buckets so that it has quite a slimy consistency. Adding more water will help reduce the amount of oats you'll need, but don't make it too watery as it'll make the game too easy.
Once you're happy with the consistency, add 10 pens or pencils into each bucket and ensure they're hidden beneath the surface. As mentioned above, pens need to have lids and pencils should be unsharpened – this is so that the members of your youth group who'll be playing this game don't accidentally stab themselves!
Lay out a tarp or sheet on the floor where you'll be playing this and put the buckets on top.
Instructions
Pick some young people to come up front to play this game – one person for every bucket that you have. To make it even more fun, have one of your volunteers take part as well.
Get them to take off the shoe and sock from one of their feet. Their task is to use their foot to locate all 10 pens in the bucket and to pick them out one at a time using their toes.
The winner is the person who manages to pick out all of their pens first.
Tip
Consider having a volunteer stand next to each player to help them balance if necessary. This is more important if the game is going to be played on a stage at your youth group – that way they won't topple off the front of it.
If you liked this idea, check out all of our other games for youth groups.
Question: What would you do to make Oats So Simple even more challenging or fun to play? Let us know in the comments below.
You can also connect with us by: