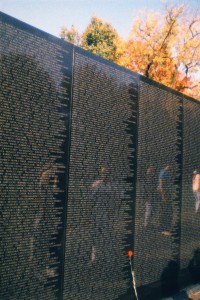 It's Memorial Day in the USA today. A day when Americans honor those who died in wars throughout history.
In Boise, Idaho Young Marines planted over 3,600 flags in preparation for Memorial Day activities at their local veterans cemetery.
If you have youth that are looking for a project to do this Memorial Day, or anytime to honor the men and women that give their lives for freedom, you can try these ideas from the Hands On Blog:
Volunteer at a Veterans Cemetery
Volunteer to help at a Veterans Parade
Distribute flowers at the Arlington National Cemetery, or other Veteran Cemeteries
Plant Flags at your local Veterans Cemetery
Reflect on Veteran's service as a group
If you work with military youth in the US, you might also consider joining the Price of Peace Teen Summit in St. Cloud Minnesota, June 24-26. The goal of the summit is to connect military teens to each other for support.
You can also contact or partner locally with the following youth military services that provide opportunities for growth, support and direction for young people with families in the military or those interested in military service themselves.
Question: What ways do your youth commemorate Memorial Day? Let us know in the comments below.
You can also connect with us by: