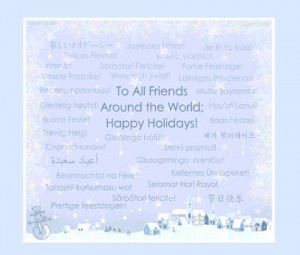 Say what?!  A post from Youth Workin' It on Sunday? I can tell you're intrigued… read on my friends, read on.
It's the most wonderful time of the year- a time to spend with family and friends and catching up on your favorite youth work blog… ok maybe I snuck that one in.  I'll be relaxing by flipping between reading fiction and youth work books.  Don't judge my bookish nerdiness too much, we've got to keep our edge so we can keep bringing you great new content in 2012!!
To countdown to the end of the year we will be posting the top 12 Youth Workin' It posts from December 19-December 31st. Our blog went live in September, but providing new content six days a week means we still have a lot of great stuff to share from the last few months.
Remember classics like 'You gave your teens what?!' and 'How to run a Krispy Kreme fundraiser' – did they make the top 12?! You'll just have to check back over the next two weeks to find out.  We think a short break is a good idea for many reasons and we got our inspiration for this from Jon Acuff.
I came across two Christmas-themed blog posts that I thought I'd share – I really enjoyed them, even if I don't subscribe to some of the views shared.  Whether you're a parent or a youth worker, a celebrator of Christmas or not, there is a lot of good stuff about the hope, joy, magic and giving that can be associated with the holiday season to share with your youth.
Jen Hatmaker's post 'A Christmas Conundrum' is written in a fun, quirky way that highlights some of the excess that can be associated with the holidays and other holiday thoughts from one Christian's perspective. The other from Cozi, focuses on The Truth about Santa, his existence and how to keep the magical feelings alive that he can inspire in children and adults alike.
We here at Youth Workin' It hope you enjoy your holiday season – Christmas Day, Kwanzaa, Hanukkah, New Years Day… Tuesday. However you celebrate – whether it's with Chinese food, a Kinara, Church or a family meal – enjoy it!  (I would like to start a petition that scraps the traditional Christmas dinner in favor of Chinese food for all – Stephen would not agree to this, he loves roast dinners!)
See you in January with new posts, games, youth work Q & A's and much more!
You can connect with us by: