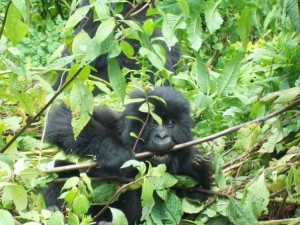 A few years ago, Shae and I visited Rwanda for a fortnight. While we were there, we visited Volcanoes National Park in the Virunga Mountains to go and see the mountain gorillas. We were fortunate enough to see the group that Dian Fossey studied and wrote about in Gorillas in the Mist.
It took about 2 – 3 hours hiking uphill to get there and then we got to spend an hour up close with the gorillas. We wanted to make sure that we got plenty of pictures and video footage as it might be a once in a lifetime opportunity and Shae had wanted to see them since she was a child.
Towards the end of the hour though, we both realised that we'd been spending all our time looking at the mountain gorillas through our camera lenses. As amazing as the gorillas looked, we were missing out on simply experiencing the gorillas. So for the last ten minutes or so, we hardly took any more photos and just enjoyed being there. This meant we had vivid memories in our head, along with plenty of pictures and video footage to remember the gorillas by.
When you're a youth worker, it can be easy to spend all your time focusing on what needs to be done for your youth work session, small group, youth retreat, etc. Your mind ends up being so consumed with what needs to be organized – the next youth group meeting, the next game, the next trip – that you miss out on simply experiencing the youth.
That's not to say that you shouldn't make sure that you're well organized. But in your youth work, make sure that at some point each day you stop being so busy and spend time enjoying, rather than just doing.
This will help you remember each day the reason why you do what you do and give some perspective when you start getting youth work burnout.
Question: Have you ever had a profound moment during your youth work by just stopping what you were doing and taking in what was happening with the youth? Let us know in the comments below.
You can also connect with us by: