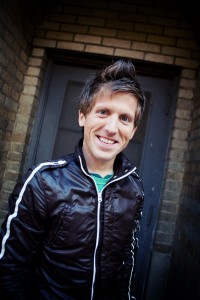 For this week's installment in our series on different types of youth work, we're pleased to have an interview with Josh Shipp – a youth speaker, author and star of the recent TV show Teen Trouble.
1. What type of youth work do you do?
My work focuses on several things. Ultimately, my thing is that I help adults understand teens and teens understand themselves. I do a lot of different things – I create online media and videos, I currently have a TV series airing on Lifetime that documents my work with at-risk teenagers.
I also travel around the country and around the world speaking to middle and high school students, as well as college students. I write books and there is also a large component of my work that includes working with influencers, meaning anyone who influences young people in any capacity. This focus is on working with parents, educators and mentors.
A pretty good chunk of my work also focuses on training and mentoring speakers, meaning other people like me who are out there influencing young people in a positive direction. I'm actually a Dad now, my wife and I have kids, and I think as I became a father I really began to think about now only how can I use my time more efficiently, but also in that time that I use, how can it be the most effective.
I think it sort of came down to this – if I personally reach one teenager, well, I've reached one teenager. Of course, that really, really matters, but if I can reach one educator or one speaker or one mentor, well, that person has the opportunity over the course of their life to influence hundreds, thousands, millions – who knows – just a lot of kids. More and more of my work is focused on doing that as well but also influencing young people.
2. What do you do in an average week?
There is no average week, but I would say perhaps a typical week for me includes being in front of a camera. Maybe that's doing a TV interview – in the last month that's been Anderson Cooper, Good Morning America, those sorts of things. It might be writing a script of something that we're going to film, working on a book, meeting with my team – I have several different people that I work with to make sure that each of our projects are moving forward. Things such as Youth Speaker University, speaking schedules, the book schedule, those sorts of things.
So to be honest with you, there is no typical week which is actually part of what I really enjoy about this!
3. How long have you been doing this type of youth work?
I started when I was 17. I actually grew up as a foster kid from Oklahoma who was pretty rebellious, defiant – those sorts of things. Part of that, I became a class clown as a way to deal with my own internal issues. 90% of teachers were annoyed by it, but one teacher basically said to me "If you shut up during class, I'll let you talk the last 5 minutes". So I said "Sure, that's awesome – I'll shut up!" He let me talk, so I really got into using my personality, using my story, using the things that I had learned – both good and bad – to influence my peers and ultimately influence teenagers – who are no longer my peers, as I'm not a teenager myself!
I just want to encourage everyone that age is just a number. It doesn't matter how old you are; you don't have to be a certain age to make a difference. "Oh, I'm too young – I don't know enough" – No! Shut up and get started! You don't have to have all the answers. You don't have to have everything figured out. You just need to get started. The truth is that the only way you're going to do something amazing eventually is by getting started and doing a crappy version of what you eventually want to do in an amazing fashion.
Some people think "Well, I'm too old to be working with students. I'm not a kid myself and I don't understand half of the things these kids are doing on their phones anymore. LOL, OMG – I don't even understand it." The truth is, as adults we have to understand that young people are not influenced by us because we are them, right? We're obviously not – that's what their friends are for. But young people are influenced by people who are authentic. By this I mean someone who's an adult, who cares enough to be authentic, to be genuine, to encourage them, to call them on their crap, to call them to being better and to bring out the best version of them.
A lot of speakers that I work with think that you've got to be young, you've got to have cool spiky hair like me to be influential, but the truth is you don't. You have to be authentic, you have to be yourself, as ultimately that's what translates, that's what resonates.
4. What other types of youth work have you done previously?
Like I said, I was 17 when I got started doing this, so this has really been a large part of my career. Obviously it's evolved – at first I was mainly just travelling around speaking, then I started writing books, then I started working privately with a handful of teenagers each year, then I started coaching other speakers through Youth Speaker University.
So things have evolved, but it's always been in the realm of helping adults understand teens and teens understand themselves.
5. What's unique about your particular type of youth work?
What I would say is that it's untraditional in the sense that it's not like I'm a social worker or a therapist who has a local office where you can book an appointment and see them. I really am privileged to be in a position of being an ambassador for youth work and so I want to make it relevant, I want to be helpful, I truly want to be of service to individuals that are out there serving and impacting young people and those who influence the young people in that community. I consider it a great honor to do such.
6. What are some of the good things about your type of youth work?
The cool thing is that I get to travel all over the world, meet all sorts of young people, all sorts of parents, educators, mentors and speakers. It's fascinating to me in a sense that speaking to an audience of students from New York City and speaking to students in Iowa City is really not as different as you would think.
Obviously the venue looks different, the kids look a bit different and they're into different sorts of things and their neighborhoods look different, but truly when we get down to the heart and those sorts of things, these kids are pretty down, stressed out and burned out about the same things, they're excited about similar things and so that's really been fascinating to me about the work that I do.
I also get the opportunity to influence a wide range of students. I've had kids come to me and hand me suicide notes after I've spoken at their school and said "Thanks, I don't need this anymore." That's part of it, on the one-on-one level and another part of it is like I said, influencing those who influence young people. To work with a speaker, to work with someone who's a mentor and for them to get it and understand practically how to connect with a young person, how to influence the young person for good and then see them go out, do their own work, have results – that's super, super encouraging.
7. What are some of the challenges of it?
Like anything, you have your great days, you have your bad days, you have days where your efforts go really well, you have days where your efforts don't go so well. A big thing that I learned, probably in the last couple of years – I wish and pray I would have learned it a lot sooner – is that if you take credit for the successes, you'll also take credit for the failures. And truthfully, neither are your fault.
If you're working with a young person and you're trying to do everything you can in your power to point them in the right direction, if they do such and they listen to your advice and they apply it and they put in the hard work, their success is down to them, not you. They deserve the applause, not you.
Also, if you do everything in your power to point them in the right direction and they don't listen and they don't apply it, that's their failure, not yours.
So I think you need to be careful about that, otherwise you'll be up and down, crazy and all over the place – "Today's awesome, today's horrible, today's awesome, today's horrible"! I think to have a more leveled existence in what you're doing, you have to understand that ultimately your job is to do everything within your power and then put the ball in their court.
Ultimately, that is empowerment – if we always have to be there, if we always have to be the one with the answers, the solutions, then we probably haven't done our job. We need to really pass that to them.
8. Why are you passionate about speaking to youth?
For me, this is the sort of youth work that made a difference in my life. I grew up in the foster care system, in and out of several different homes, I was abused mentally, physically and sexually. 90% of the foster homes I lived in were fantastic, 90% of the foster parents were awesome, 10% weren't – that 10% did really, really mess me up.
It was mentors, youth workers, Big Brothers Big Sisters, all of those sorts of things that dramatically made a difference in my life. Yes, I ended up with a great set of foster parents but the truth is that as a teenager, even if your Mom and Dad are great, you don't really listen to them as much because they're Mom and Dad. So having caring adults that weren't Mom and Dad who were investing in my life made an unbelievable difference.
I've said it a bazillion times but I still believe it to be so true – every kid, regardless of what they're going through, their current challenges, their current circumstances, they're genuinely one caring adult away from being a success story. I think that's the opportunity, that's why I do what I do and that's why you do what you do and that's why we do what we do.
Sometimes it's frustrating and sometimes you just want to slap the kids you work with because you're just like "Good Lord, can't you get this through your head! You're capable of so much more than what you're doing right now!" But ultimately, it's about those "Aha!" moments where they take ownership, where something clicks in them, where they realize this needs to change, here's what I'm going to do to change it, I'm going to invite adults in my life to hold me accountable to it and I'm going to start the process of building a better life for myself. That's just killer.
9. What would you recommend for someone wanting to become a youth speaker?
For someone who wants to perhaps go around speaking at schools, to parents or educators, those sorts of things, I would encourage you to check out Youth Speaker University. We have a training course but we also have some pretty cool free training materials that you can try out to understand how that industry works, how you can go around sharing your expertise, your experience and your life story to impact young people or those who impact young people.
Ultimately, my recommendation would be to just get started. You don't have to be perfect to make a difference, you just have to be willing. There's probably something that you've been thinking about doing for a long time, some sort of movement, something that could help a young person, so just get started with it. The only way that you can find out if your good idea is actually a good idea is to put it into action, to give it a try.
10. Is there any special training or qualifications required?
It depends on exactly what you're going to do. Anyone can speak, anyone can write a book, anyone can mentor a young person. Should you get training, should you educate yourself, should you always be looking for ways in which you can hone your craft, get better at what you do, be more effective in what you do – of course and absolutely!
But truthfully, is there a qualification to want to make a difference in someone's life? Absolutely not! The only qualification is that you're willing. So don't let that hold you back.
11. Is there anything else you'd like to share?
A big thank you for the incredible, awesome, rad, super, legit investment that youth workers and organizations are making in young people's lives.
For over a decade Josh Shipp has earned an international reputation as a teen behavior expert who can get through to any teen and and give practical strategies to parents. He's lectured at universities such as Harvard and Stanford on the art and science of getting through to teens.
Mr. Shipp is the author of "The Teen's Guide to World Domination" and star of Lifetime's Teen Trouble from the executive producers of Oprah and Intervention, which documents his intervention work with teens in crisis.
He's worked with groups of parents, educators, and mental health professionals, plus he's influenced more than two million teenagers through his work.
He's a frequent expert on adolescent behavior for MTV, CNN, FOX, The New York Times, MSNBC, and countless other media outlets.
You can find out more about him at Hey Josh and Youth Speaker University.
Here's an additional interview with Josh from when he was on the Jeff Probst show:

If you're a youth worker and would like to take part in this series, please contact us.
You can also connect with us by: